Watch the video
Exam Forms are a key component of a patient's medical record, bringing together patient vitals, question and answer responses, observations and notes taken by the veterinary health care team.
Customization of Exam Forms allows veterinary offices to have customizable templates that can focus on specific disease or injury processes or follow well accepted formats such as SOAP, SOLAP and HELAP.
Adding Exam Forms to a Patient Medical Record
Exam Forms can be added to the patient medical record in the following ways:
From Quick Links > Exam > New Form > select the form.
From Quick Links > Exam > Existing Form > select an existing form in the patient's medical record > click Copy to New.
From Patient Medical Record > MR View By Groups > Exams > Add Exam.
Edit an existing patient exam form and select Copy

to New

.
Saving and Editing Exam Forms
Exam forms will automatically save as information is being added with notifications appearing in the top right corner to signal successful saving. Option selection saving occurs immediately, with other changes being saved when the whole form is saved.
To release the form for another user, or save text entered into the text box, the Save button must be pressed. The following save options are provided at the top and bottom of the Exam Form for efficient navigation.
Save & Release

Save & Add Diagnosis

Save & Add Treatment

Save & Add Plan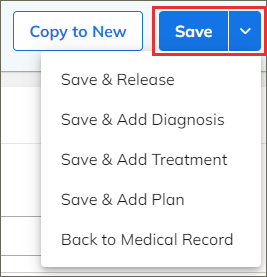 Deleting an Exam Form
If an exam form is added to a patient in error or is no longer required, it can be deleted from the MR View by Groups tab by clicking the red 'X' to the right-hand side.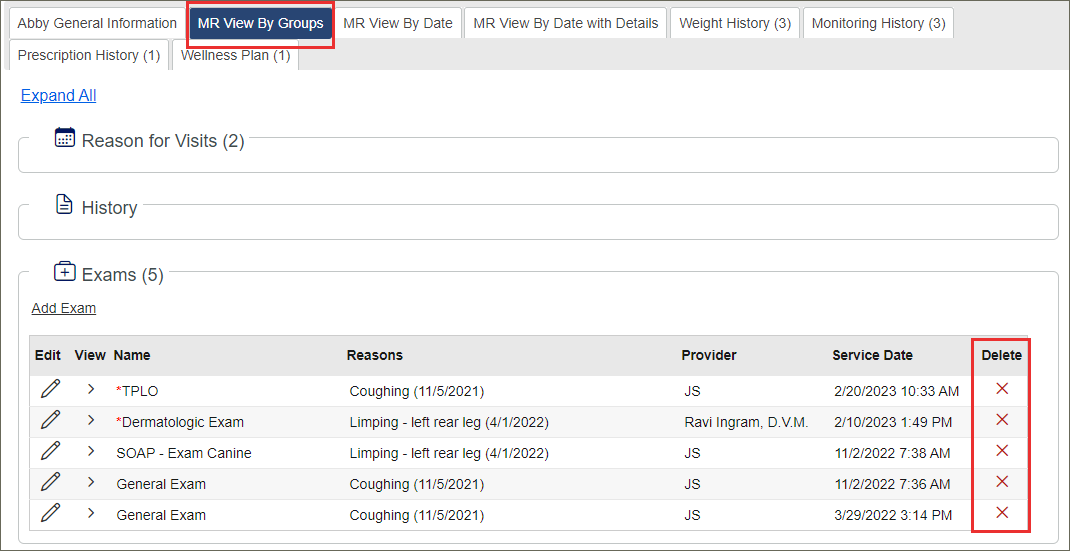 Entering Information
Vitals
This section, if displayed on a form, is information associated with patient parameters. Click in the field and enter the data.

Custom/Blank
This section allows either a single or multiple selection from the options listed.
Multi Select
The multi select option allows multiple answers to be selected. Multi select options are differentiated from single select by the square check box.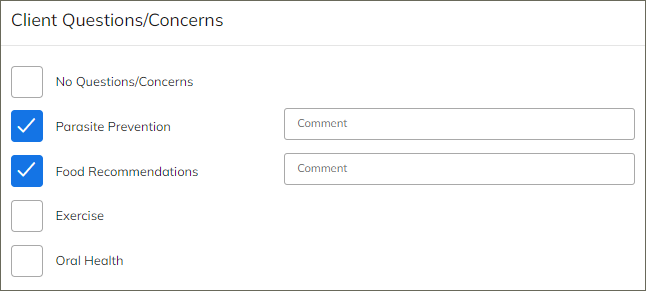 Single Select
Single select option allows only one option to be selected and are differentiated from multi select answers by the use of radio buttons.

Objective/History
This section allows a clinic to identify optimum, neutral, not assessed or not optimum answers to questions/assessment. Options available are those similar to what is described above: single select, multi select, and notes.
Notes
Exam Forms allow for the input of information into a text editor referred to as Notes. These text editors are feature rich and include the following capabilities:
Formatting

Voice to Text

Inserting Images or Documents

Adding a Document Template

Exam Form Locking
To prevent data conflict or loss, exam forms can only be edited by one team member at a time. In the event of two people trying to access the exam form, the current user will be notified of someone else's intent to edit the form. If they wish to allow the other person to make edits, they will need to save and release the form. At this point the second person will be notified that the exam form is ready for them to access.
Related Articles