Background and prerequisites
The IDEXX in house lab integration has a few requirements:
A Windows PC connected to the clinic network with both FileWatcher and IDEXX Interlink installed.
An IDEXX Vet Lab Station connected to the clinic network.
Please contact Support to install and configure the FileWatcher and IDEXX Interlink.
Enabling IDEXX In House Lab Integration
Once IDEXX's Interlink software is installed and configured for VetLab connection,

from the main menu, click on Settings > Practice Setup > General > expand Integration Settings.

Next, scroll down to Integration Settings and click the box to Enable IDEXX In House Labs Integration.
Make sure to click the Save button before continuing.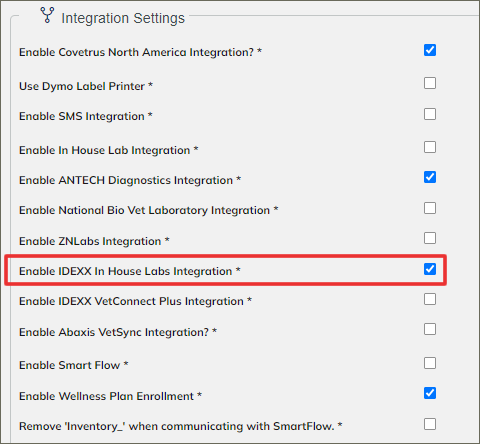 Editing In House Lab Items
After enabling the integration, you will need to go into main menu > Settings > Products & Services > Labs which will open Lab Management. Add/edit your in-house lab items by flagging them as an IDEXX In House Lab item and Is Integrated Lab item" as pictured below: