Gravity Payments Setup
Once your account has been created, Gravity will reach out to our Support team with the Source Name, Source Key and PIN.
Gravity will then coordinate a time with your practice, along with us, to setup the installation.
Once the installation is completed, proceed to the steps below.
Go to Menu > Settings > Billing > Payments in the sidebar.
Locate the checkbox checkbox Use Gravity Payments.
If you check that option, a new section will appear below where you can enter a PIN and Source Key.
Enter the PIN and Source Key and save.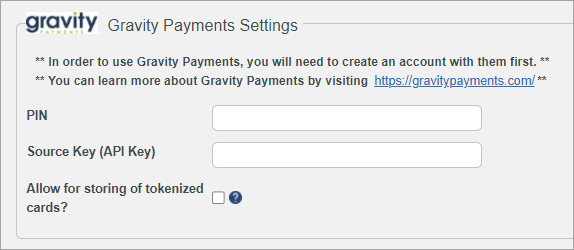 Connect the credit card terminal to the practice WiFi network.
Add the new terminal by entering a name (picked by the practice) and the serial number of the device.
Once the terminal is added, a pairing code will be generated. Enter this code into the terminal once it is powered up and on the network.
After the terminal is paired, it may cycle through a few firmware updates.
Once it is completely online and back at the welcome page, the setup is complete and ready to be tested with a payment.
Additional Information
Gravity does have an app and web portal that can be used to receive payments, enter refunds, and check Gravity transactions outside of the integrated terminals (contact Gravity for more info).
Castle devices accept swipe/chip credit and swipe/chip debit (processed as a credit card).
The devices can be taken anywhere within reach of a wireless network to be used when taking a payment.
The terminals don't support hidden networks (networks/SSID has to be broadcast and can't be hidden), and they currently cannot connect via Bluetooth.
Tested and Certified Devices
Current Tested and Certified Terminals that work with the integration:
Castle MP210L
Castle MP210
NOTE: Currently the Vega 3000 terminal and Cozzi are not certified for use with the integration so there is no guarantee it will work properly.