Issues or Symptoms
IDEXX in house lab orders and results are not transferring.
IDEXX Interlink program will show a yellow icon for the IDEXX VetLab Station and hovering over the taskbar icon displays "IDEXX VetLab Station: Waiting for a connection".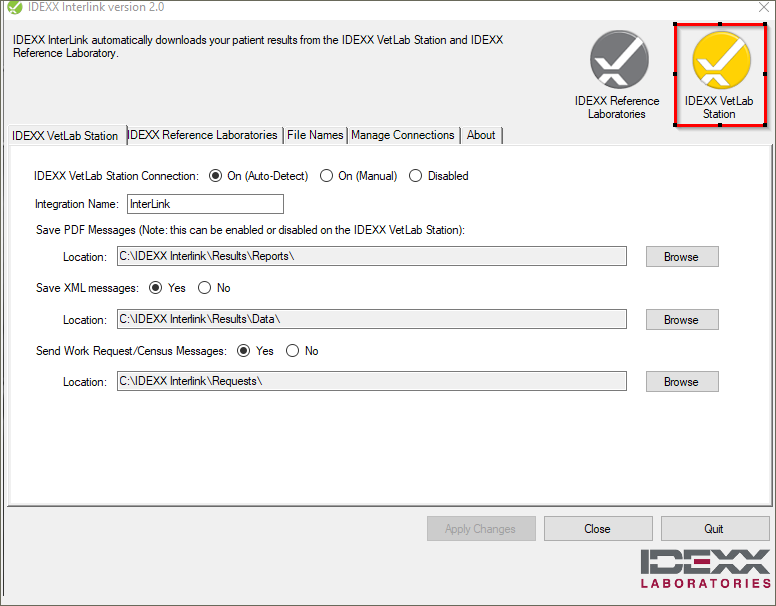 Known Cause(s)
The network connection is not configured correctly.
Practice management settings on the IDEXX Vetlab station are configured to another PIMS.
Another program is causing the Interlink application to be blocked (e.g. Windows Firewall or an antivirus software).
Troubleshooting Steps
Restart the IDEXX VetLab Station and exit completely out of the IDEXX Interlink program on the desktop and reopen it.
Check the network connection on the VetLab Station (this information has been taken directly from IDEXX's VetLab Station Operators Guide)
From the Home screen Settings.
Tap the Practice Management tab.
Select the applicable software option. Make sure it is set to OTHER.
Specify how the practice management software connects to the IDEXX VetLab Station. Make sure it is set to Network Connection.
Tap Configure, establish the type of connection. Make sure it is set to Auto-Connect.
Check that the IP address matches the computers IPv4 address (open the command prompt and type ipconfig, hit enter)
If prompted, read and agree to the IDEXX Connection Agreement.
Note: For security reasons, Covetrus Support is unable to assist with changes to network or firewall settings. Please consult your local IT.
Check the computer's network/firewall/antivirus settings:
Check Windows Firewall settings. Open the Control Panel > Allow app through Windows Firewall > Change Settings > Scroll down until you see "IDEXX" and make sure it is allowed via public, private, and Domain (if one exists).
Make sure network sharing is on. Open Network Settings > network and sharing center> change advanced sharing settings > make sure network discovery is on.
Check antivirus software or other firewall programs.
Check that the VetLab Station date and time match the computer's date and time.

If none of the above steps has resolved the issue, contact IDEXX VetConnect Plus support at 1-888-433-9987 opt. 5 then opt. 2
Related Articles
IDEXX In-House lab orders are not showing on the IDEXX VetLab Station