Introduction
Heska, an Antech Company, is a world leader in Digital Radiography, Ultrasound, Cloud PACS, Cloud based Vendor Neutral Archive, and X-ray systems. With over 15 years of experience, the Heska team and its founders have successfully partnered with doctors and institutions across a wide range of specialties for over 5,000 successful Flat Panel Digital Radiography installations throughout the world.
Our integration allows you to automatically submit an order (study) based on a procedure code. This saves you and your staff valuable time by skipping the client/patient entry in both systems and reduces the chance for missed charges.
Then you can view an imaging study from within our system without having to login to both.
How it Works
After the service is added, an order is created through HeskaView +. HeskaView + communicates with your onsite imaging system (xray, ultrasound, ct, etc..). When you use your onsite machine (i.e. x-ray), search for order by accession/patient/client and process like normal.
The study is sent up to HeskaView + for storage. At that point, the study in HeskaView + is linked to the patient's EMR. You can view the study at any time.
We don't download the study (images), everything stays in the HeskaView +. If you need to email/print study, you have to do that from the HeskaView + system and that can be done through the viewer that is loaded in the EMR.
Setup
By default, the integration with Use HeskaView + is not enabled.
To enable, you can go to Menu > Settings > Practice Setup > General.
Expand the Integration Settings. There is an option to enable Use HeskaView +.

Checking the option will display a new screen to configure your HeskaView + Account Settings.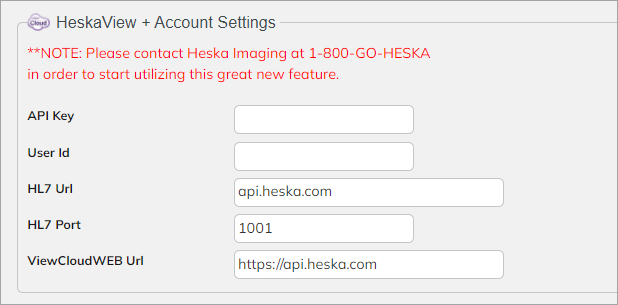 You need to obtain this information from Heska. We do not have access to this information.
Once that is configured and saved, you can set up your procedures to be a HeskaView + order code.
Go to Menu > Settings > Products & Services > Services.
Locate your imaging services such as Radiology. If you do not have imaging services, please create new service codes for your imaging services offered. A good example is Radiology 2 View or Radiology 3 View.
Edit the procedure and under Details, activate DICOM Integration and select HeskaView as Provider and Digital Radiography for Modality. Note: These may already be entered for you.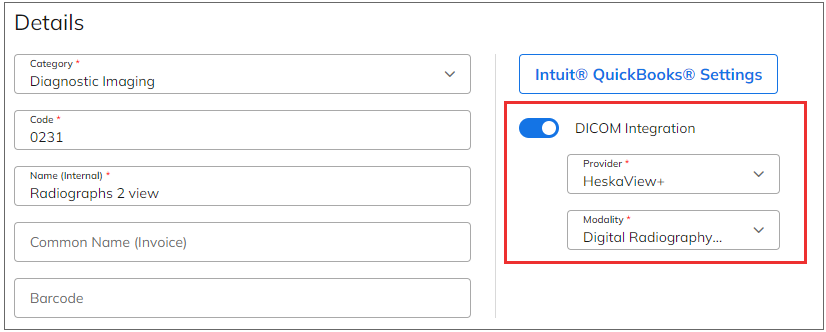 Save and Close to save the changes.
That completes the setup of the integration. You can now create a new study and view the study display from within our system.
Creating a New Study
To create a new study, you need to open a patient's record, then add a HeskaView + service, which was created or updated in the previous setup steps.
The system will automatically then transmit the client/patient/study information to the HeskaView + system.
Once the item is added, go back to the medical record view.
If you are viewing the record by groups, then you will notice a new section labeled Imaging Studies.
If you are viewing the record by date, then you will notice a new entry called Imaging Study.
The service you just added should be listed here.
The name, provider, and service date are pulled directly from the treatment item.
If you need to alter any one of these, please update the treatment item and the changes will be reflected on this list. Note: The changes do not automatically get sent to the HeskaView + service.
From this list, you can click to view, and you can remove. Removing the study only removes it from this list. It does not remove the treatment item as well.
If you need to remove the treatment item, you will need to remove it from the treatment page. However, removing the treatment item will cause the study to be removed from our system as well. Performing any of these actions will not update or remove studies from the HeskaView + service.
Viewing Study
To view the study, locate the imaging study list in view by groups or the imaging study in view by date.
Click the magnifying glass to view.
You will be taken to a new page that loads the HeskaView + viewer. From here, you can work with the study as if you were in the full HeskaView + WEB application.
Additional Notes
When printing the medical record, the imaging study is printed as a single line entry and the images are not included. To send the study, you will need to send those from the HeskaView + Study Display (Viewer).
For any other info you can contact Heska
Call us 24/7, Toll Free: 800.464.3752, option 6 (US/Canada) or 970.775.2262
Outside of US: 970.775.2261
Email us: imagingsupport@heska.com