If you have a situation where a client was duplicated, the duplicate records can be merged into one.
Merging Clients
Navigate to the existing client record that will be merged into the destination client.
Expand the General Information section and scroll down to the bottom of the page.
From the Save button, select the option Merge with Another Client (if this option does not show, the employee may not have the rights to merge records).

A Merge Client Look up modal will display.
Start typing the name within the field and choose the appropriate destination client, then click Merge.

You will get a warning message that merges are permanent. If you are still certain you want to merge the two client records, click Yes, Continue.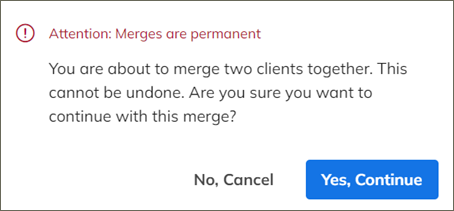 Patients will be transferred over. This may result in duplicate patient records which can also be merged.
Payment History will be merged.
The destination client's profile will not be updated after merge.
Related Articles