Watch the video:
Practices that offer boarding services know that this requires a great deal of resource management and organization. The boarding module allows the practice an intuitive way to manage your boarding needs. Below you will find a quick guide to get started with boarding at your practice.
Enabling Boarding
In order to use the Boarding module, you must first make sure it is enabled for your site.
Navigate to Menu > Settings > Practice Setup > General.
Scroll down and expand Miscellaneous Settings.
Make sure Enable boarding is checked off.
Click Save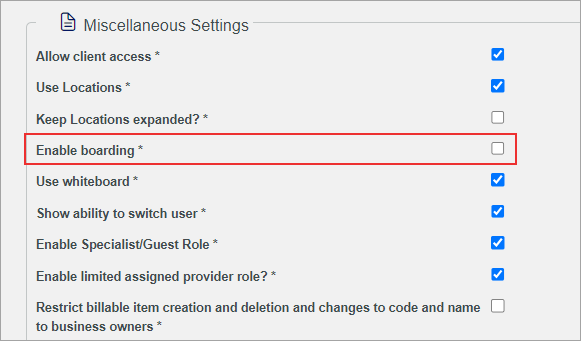 Add Cage Types to Inventory
Once Boarding has been enabled you will need to add your cages/kennels/runs/rooms to inventory. Any item that should be assigned to a patient as where they will be staying while they are being boarded should be an inventory item.
For more information on adding a cage to the inventory see this article - Adding a Boarding Cage to Inventory.
Setting Up Cage Types
This is where you will set up how many and what kinds of patient boarding "cages" you have available.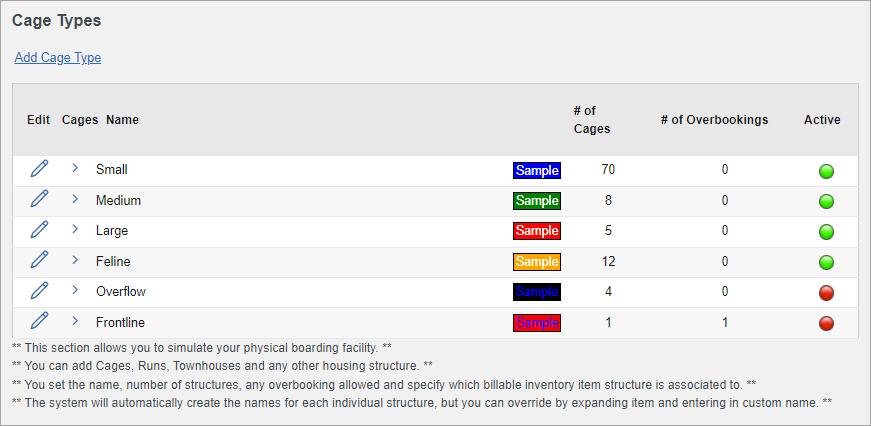 In the example above you can see the number of cages of each type they have and the number of available overbookings.
For more information on setting up you Cage Types please see this article - Cage Types.
Setting Up Reservation Types
There are two booking types for reservations:
Hotel Style - These are reservation types that are meant to be charged by the day for overnight patients.
Daycare Style - This type is designed for single day reservations.

In this section you will be able to add all your different reservation types and determine what booking types and charge periods should be. This section is best used to distinguish between different ways to charge the client:
Once per visit
Once each hour
Once each day
Once each time it passes the cutoff time
For more information on how to set up Reservation Types please see this article - Reservation Types
Set Up a Boarding Appointment Type
Most of your basic boarding set up will be complete by this point and you just need to make sure that you can book a boarding appointment.
To do so navigate to the Menu > Settings > Calendar > Appointment Types.

You want to make sure you have an appointment type that has an "X" in the Is Boarding section.
If there is not an appointment type for Boarding, as indicated by the Is Boarding column, then you can use this article to create a new appointment type - Configuring Appointment Types.
Taking Boarding Reservations
Now your configuration is complete, and you are ready to begin taking boarding reservations. You can take reservations in one of three ways:
From the Calendar - Click on the arrival date and set the appointment type to the boarding type configured above.
From the Patient Record - Go to Visits then Schedule a Visit and use the appointment type configured above.
From the Boarding section - Click Boarding on the Menu, then Create New Reservation.
In each section you will be asked to fill out the following information: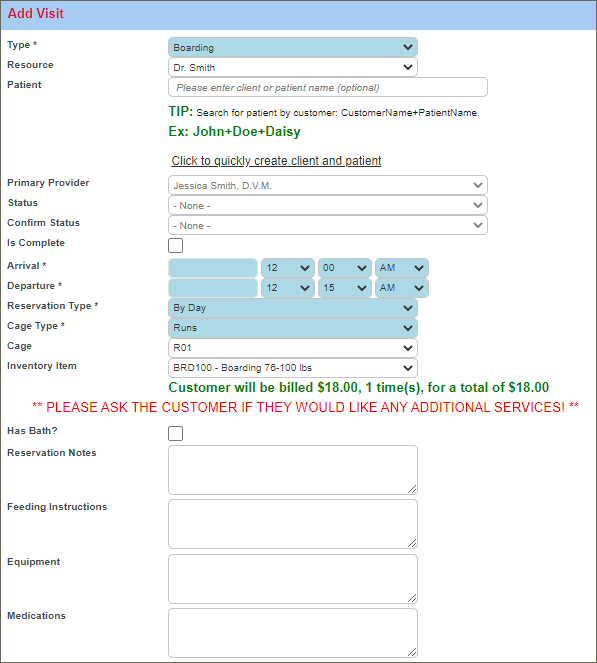 Once the reservation is made it will display within the Boarding tab of the calendar.

Checking In Upon Arrival
When the patient arrives, you will need to check them in.
To do so go to the Boarding section on the Home screen.
From here you will see all reservations for the current day. You can filter by date and cage type from this screen as well.
To check in the patient, click on the reservation and change their status to Checked In.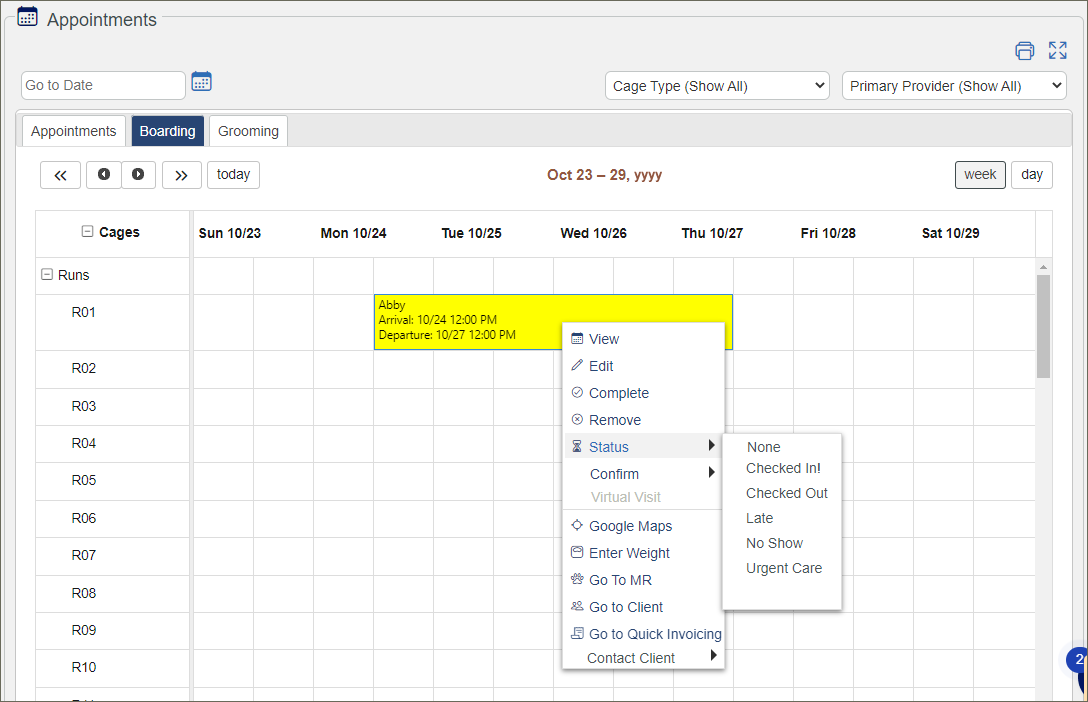 You can also update reservation notes by editing the reservation.
Once the Check-In button is clicked, it will create a billable/treatment item based on the amount of days up until the Patient's Departure.

This will create an invoice showing the total price of what it will cost the owner for the boarding reservation.
From this point you can click any of the blue links at the top of the screen shown above to print the cage card, cage sheet, and check-in sheet.

Checking Out a Patient
To check out the patient you will follow the same instructions as above.
You will go to the Boarding tab, click on the patient's reservation and change their status to Checked-Out.
Or
Edit the reservation and use the Check Out button.
Once you click Checkout, the charges will be automatically billed to the client.
PLEASE NOTE: ANY ADDITIONAL SERVICES WILL NEED TO BE CHARGED AS TREATMENTS SEPARATE FROM THE BOARDING CHARGES THAT ARE AUTOMATICALLY CHARGED BY THE BOARDING MODULE.




Related Article(s)
How do I set up boarding reservation types?
How do I configure visit statuses?
How do I add a boarding cage to inventory?
How to create, check in, and check out boarding reservations?
How do I configure or run the Boarding Report?