Often a patient will need to be monitored for ongoing problems and medications which should be noted in the patient's record for easy reference. This may be a problem they present with as a new patient or diagnoses or treatments entered by your clinic. There are two sections that will appear in the patient's highlights:
Master Problem List
Medication List
There are two ways to put information on these lists:
Manually for patients who come in with these issues/medications.
Automatically for patients in which these problems/medications are diagnosed/prescribed by your clinic.
NEW CLIENTS WITH PRIOR PROBLEMS/MEDICATIONS
When a client comes through the door and says that their pet has an ongoing problem and/or is taking a certain medication or supplement on a regular basis, you can add it to the patient's record.
You can manually add these in from the General Information tab of the patient's record.
To add a Master Problem - scroll down to the Master Problem List section and click Create a Master Problem. This is a free field so you can type whatever you need to. You can also enter the Date Onset and Date Resolved, but these are not required. Click Save when done.

To add a Medication - scroll down to the Medication List section and click Create a Patient Medication. This is a free field as well. You can also enter the date they began taking the medication/supplement, but this is not required. Click the Save button when done.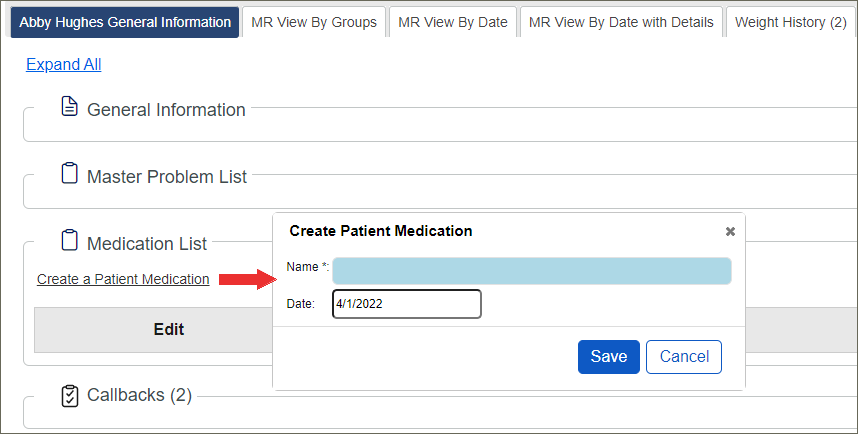 Once these fields are updated they can be viewed in the patient's record in the highlighted section:

For new patients, these sections are vital to let the veterinarian/technician know of any prior problems or that they are on medication at this time that could potentially have harmful drug interactions or may affect how they treat the patient that day.
CURRENT PATIENTS WITH NEW PROBLEMS/MEDICATIONS TREATED AT YOUR CLINIC
You can also update these sections directly from the patient's medical record based on diagnosis/treatments that have been added to the patient's medical record.
Master Problem List - To add to this list from the medical record you will need to add a diagnosis to the medical record from your findings during the exam/diagnostic tests. To do so, click on the Quick Links Diagnosis button. This will allow you to create a diagnosis from the Diagnosis Codes and add it to the Master Problem List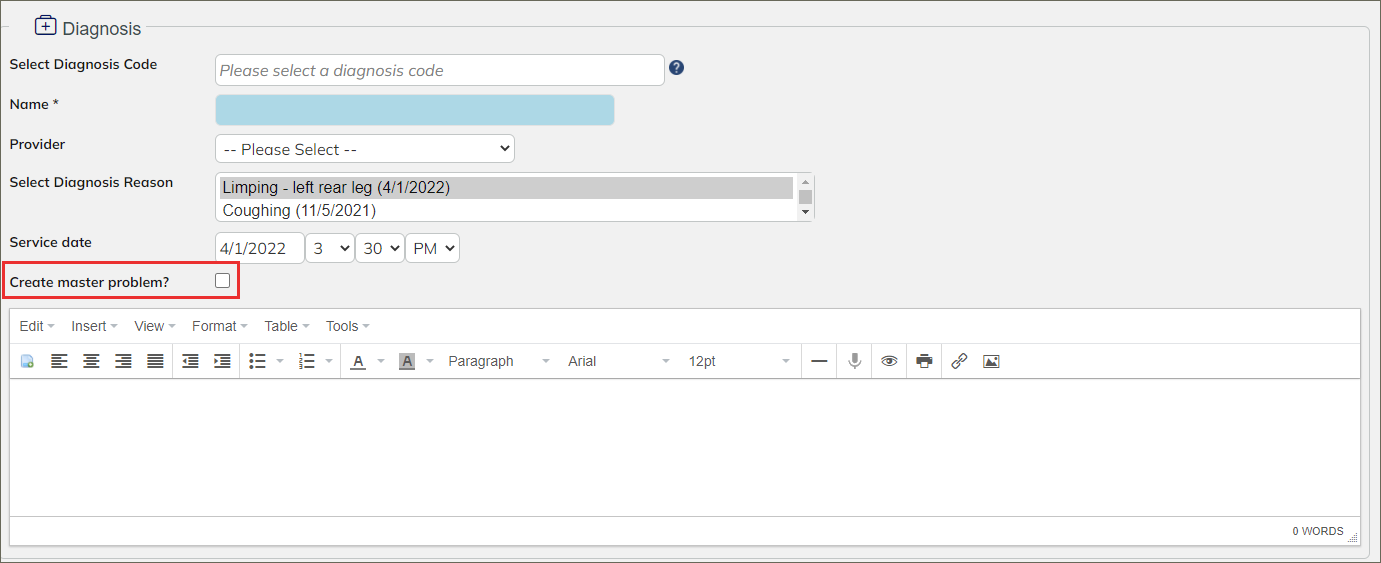 Medication List - In order to have a treatment you prescribe automatically added to the Medication List, it must be marked as "Is Medication" on the inventory item. Once this inventory item added to the record as a treatment, it will automatically be added to the Patient Medication List that shows up on the patient page. It is important to note that this can only be done in inventory and it is only needed for drugs that truly need to be monitored because of their drug interactions or issues that need to be monitored by the veterinarian. For more information on how to update the inventory item, please review this article - Adding an Inventory Item.