The purchase order system allows you to efficiently create new orders, search for existing orders, and receive orders. You can also set up new vendors as needed.
The same roles that can access inventory management are used to restrict the purchase ordering system. That includes the business owner, business manager, inventory manager, and billable items manager.
To enter the purchase order system, go to Menu > Settings > Inventory > Purchase Orders.
Viewing the Purchase Ordering Window
The search page will be the first page you see when entering the purchase order system. There is a variety of ways to search including by vendor, date range, PO number, order status, inventory item, reference number, item comments, and order notes.
From the search results, you can edit the order, receive the order, print the order, or cancel the order.
There are 4 order statuses. The system controls the statuses based on the steps taken.
Not sent – created, but order not placed with vendor yet
Ordered – order placed with vendor, ability to receive
Partial – order has partially received items on it and has not been fully received
Closed – order has been fully received or cancelled when having a partial receipt of items
The ability to receive an order is only given when the status of the order is ordered.
Printing an order will produce a PDF of the order which includes the order items. The order item details will include name, manufacturer, cost, quantity ordered, quantity received, quantity on backorder, total, and comments.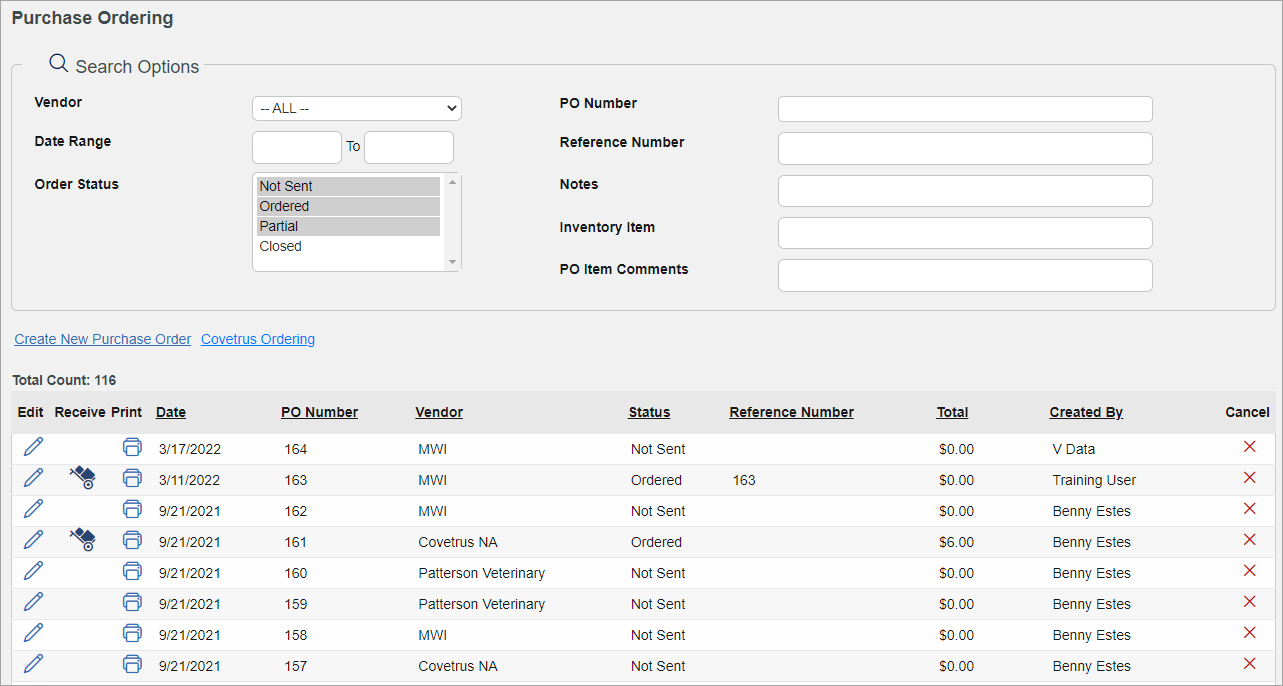 We will discuss creating/editing an order and receiving an order in the following related articles.
RELATED ARTICLES
How do I create or edit a purchase order?
How do I receive a purchase order?
How do I submit purchase orders from the on hand alerts report?