Scheduling Boarding Reservations
You can take reservations in one of three ways:
From the Calendar - Click on the arrival date and set the appointment type to boarding.
From the Patient Record - Go to Visits then Schedule a Visit and use the boarding appointment type.
From the Boarding section - Click boarding on the Home Menu, then Create New Reservation.
In each section you will be asked to fill out the following information:
NOTE: "Cage" will be required if you selected that a cage assignment is required on your Cage Types.
It is recommended that if the patient should receive any treatments during their stay that you make separate appointments for these treatments and make a note of it in the Reservation Notes section.
Once the appointment is made it will appear in the "all-day" section on the calendar. If there are multiple all day appointments then there will be a scrolling bar you can use to see them all.

CHECKING IN UPON PATIENT ARRIVAL
When the patient arrives you will need to check them in. To do so go to the Boarding section on the Home Menu.

From here you will see all reservations for the current day. You can filter by date and cage type from this screen as well. To check in the patient click on the edit pencil next to their name.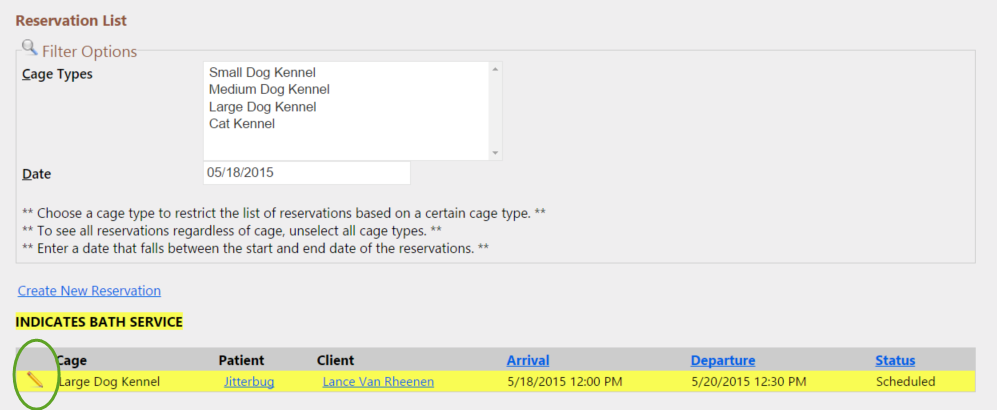 From here you can check in the client by clicking "Checkin" at the top of the page. You also have the option to update the reservation notes with any new information from the client: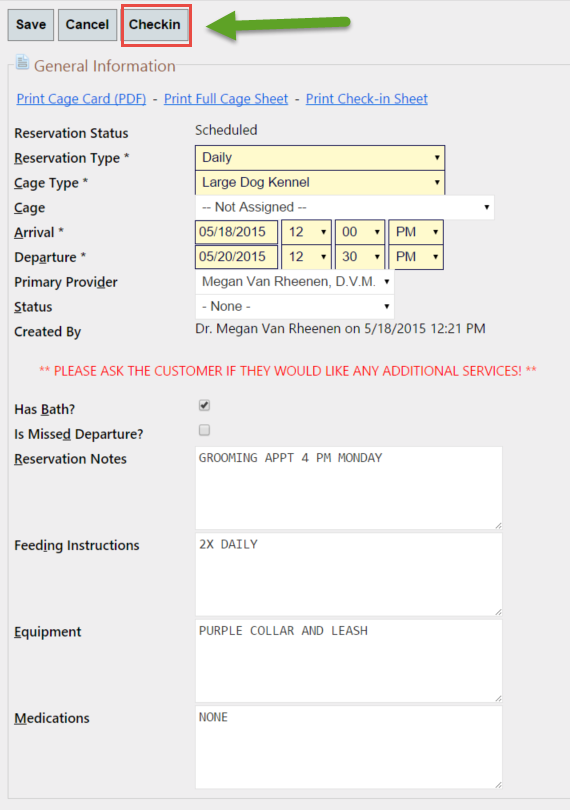 From this point you can click any of the blue links at the top of the screen shown above to print the cage card, cage sheet, and check-in sheet.
CHECKING OUT A PATIENT
To check out the patient you will follow the same instructions as above. You will go to the Boarding section, click the edit pencil next to the patient's reservations. Instead of seeing Checkin at the top you will see Checkout. Once you click Checkout the charges will be automatically billed to the client.
PLEASE NOTE: ANY ADDITIONAL SERVICES WILL NEED TO BE CHARGED AS TREATMENTS SEPARATE FROM THE BOARDING CHARGES THAT ARE AUTOMATICALLY CHARGED BY THE BOARDING MODULE.