Question: How do I attach a reminder to a billable item?
Answer:
Reminders can be attached to inventory, procedure, and lab items.
Navigate to the item to which you want to add the reminder
Click the edit pencil next to it
Scroll down to the "Reminders" section. Any existing reminders for this billable item will show in a table in this section. To add a new reminder for this item, click the "Add Reminder" link on the right side of the section.

Once you check the box off for "Has Reminder" or click on "Edit Details" if the box is already checked, the screen below will appear where you can set up or edit your reminder.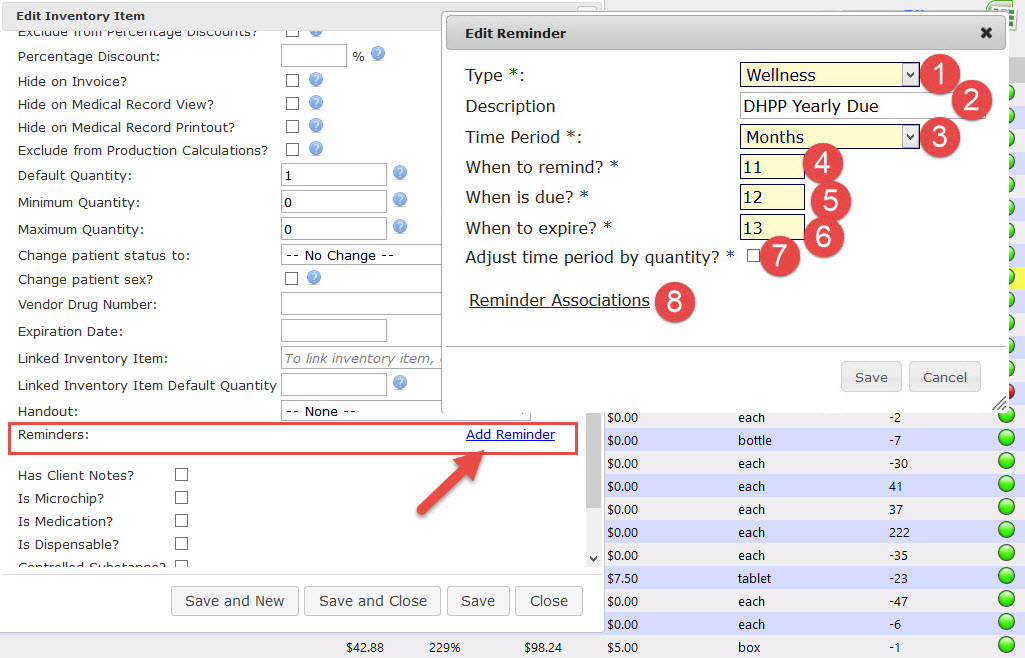 Type - This is where you choose which type of reminder it should be. The big question you need to ask yourself is should this be an EXTERNAL (General, Wellness, or Recheck) reminder or an INTERNAL (Callback) reminder. External reminders will be sent to your clients and are typically used on items you want them to schedule appointments for in the future, such as vaccines or annual exams. Internal reminders are generally used when you want to remind your staff to callback the client to check on the patients, such as after surgeries.
Description - This is what your client or staff member will see. For example, if this is a vaccine reminder on the last puppy shot, you would set it up as a Wellness reminder and likely say "Distemper/Parvo Yearly Due." That way when they read their email or postcard, they know what to make the next appointment for. For a callback reminder, you need to let your staff know what kind of procedure they are calling back regarding.
Time Period - This allows you to say if you want to remind in Days, Hours, or Months. You will likely only use Days or Months.
When to remind - if you are sending automatic emails via the Nightly Tasks, this is when they will get the first email letting them know the name (defined in the Description section above) and the due date of the reminder (defined below).
When is due - This is the date the email/postcard/SMS will say that the reminder is due.
When to expire - This is the date that the reminder is considered overdue. An overdue reminder will show up in the expired reminders section of the patient record and will show up with an exclamation mark in the reminders box on the patient highlights section. No further automated emails will be sent for expired reminders; however, they can be pulled on reports.
Adjust time period by quantity - This allows you to say that if this is a monthly reminder, but they bought 6 items, we will remind them in 6 months instead of in 1 month.
Reminder associations - Patient Reminders will always satisfy older reminders tied to the same reminder settings, or with the same exact reminder description, automatically upon invoice close. The "Reminder Associations" list allows you to choose reminder tied to OTHER settings that will also be satisfied when the invoice is closed. For example, if this is a yearly DHLPP vaccine, you would want it to remove any old reminders the patient had from other distemper billable items besides this particular one. You would need to simply click on "Reminder Associations" and select the checkboxes next to other reminders you would like this particular reminder to satisfy upon invoice closure, and then save.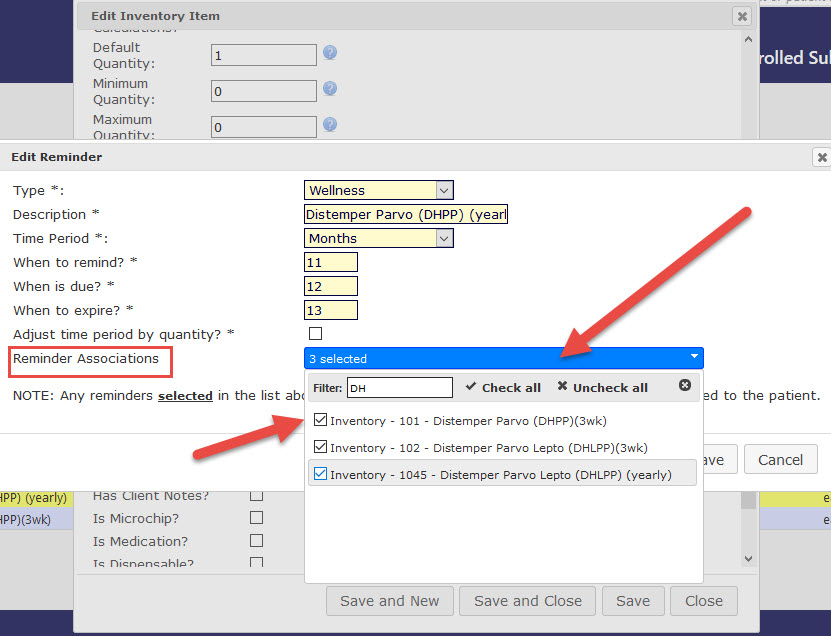 Once you are done setting up your reminder, click Save.
TYPICAL 3 WEEK WELLNESS REMINDER SET UP: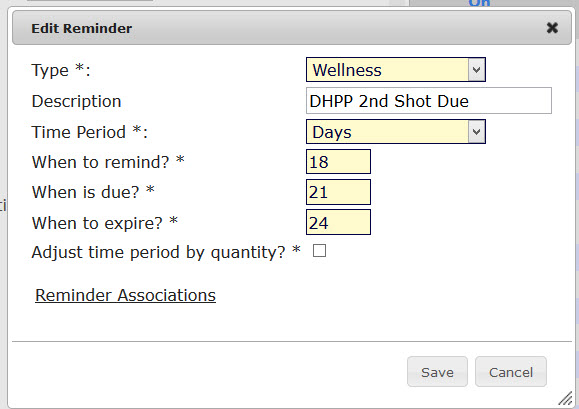 TYPICAL 1 MONTH WELLNESS REMINDER SET UP: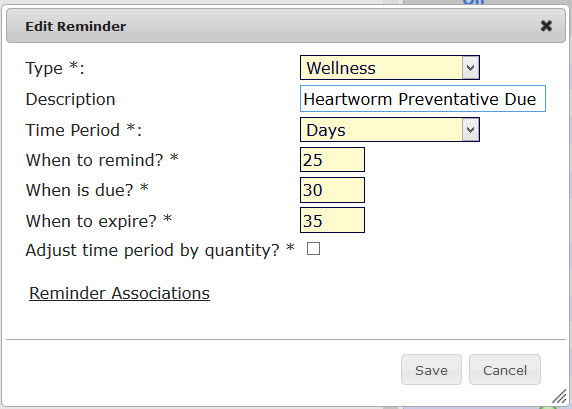 TYPICAL ANNUAL WELLNESS REMINDER SET UP: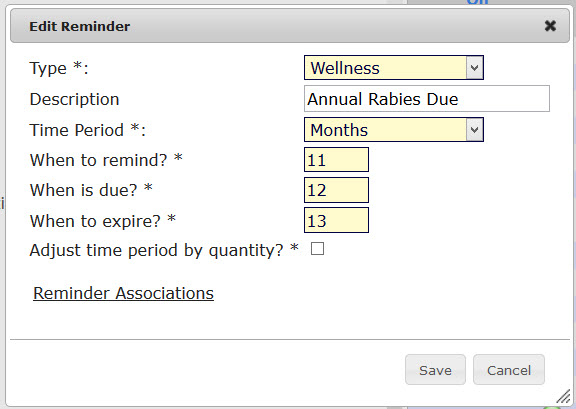 TYPICAL 3 YEAR WELLNESS REMINDER SET UP: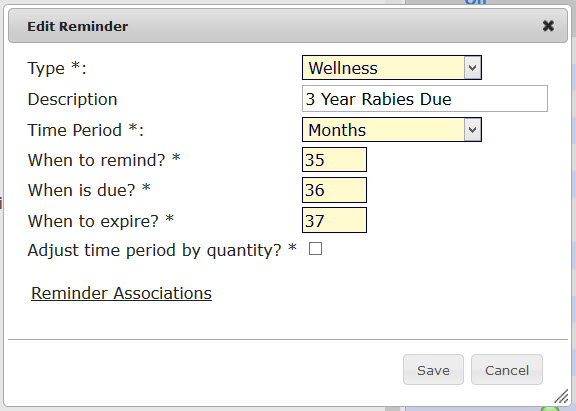 TYPICAL ONE WEEK POST PROCEDURE CALLBACK REMINDER SET UP: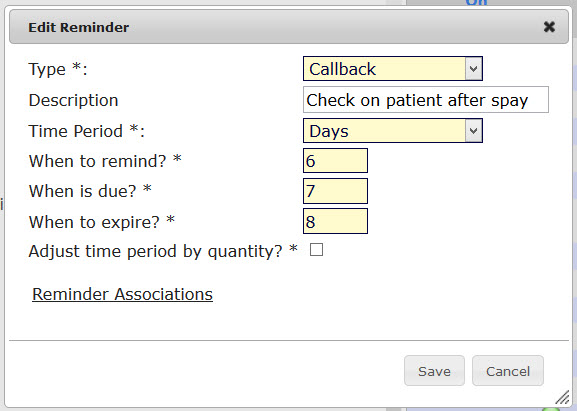 For more information on distributing your reminders and utilizing the reminder system, please see this article: Reminder System Overview