The practice has the ability to send automated email reminders; however, oftentimes you may not have an email address for a client. For these people you may wish to send a postcard reminder.
NOTE: Currently only 3-Up Postcards are supported.
Creating the Reminder Template
The Reminder Template section allows you to create custom reminders for different appointment types and service reminders. Your site will come with a few standard reminders, but you can create as many different Email, SMS, and Postcard reminders as you wish. You can also edit the preset reminders that came with your system.
Navigate to Menu > Client Engagement > Reminder Template Setup from the sidebar.
This will open the Reminder Template Setup page where you can edit the Prepaid Post Information (if you wish to have this printed on your postcards)
You can also edit existing reminders by clicking the edit pencils next to them or create new ones by clicking on the links.

To edit an existing or create a new postcard reminder, you will need to fill out the following fields: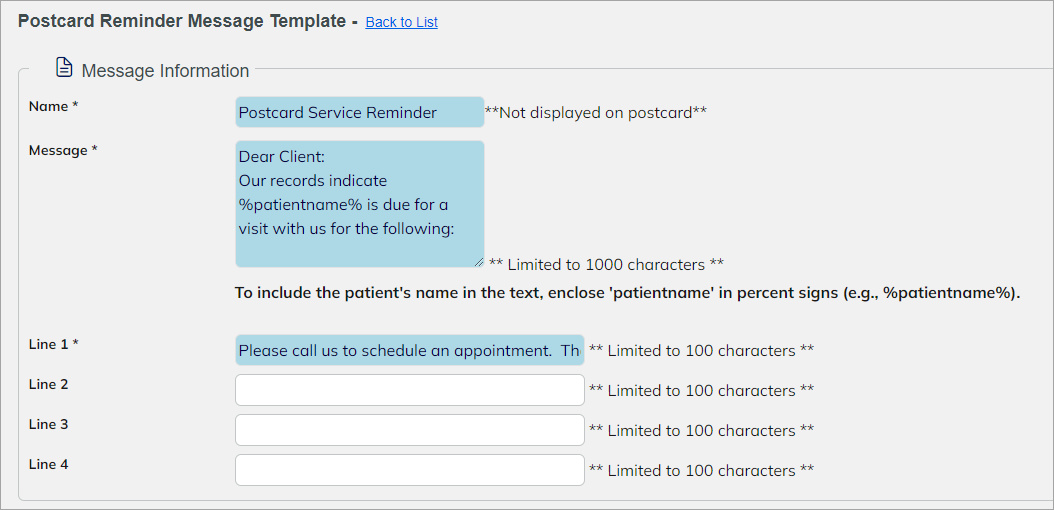 Name: This is the internal name that you will see when you choose which template to use
Message: This is the message your client will see on the postcard.
Lines 1-4: These are additional lines of information you can add that will appear to the left of the client's address.

Click Save when complete.
Below you can see where this information will appear on the actual postcard.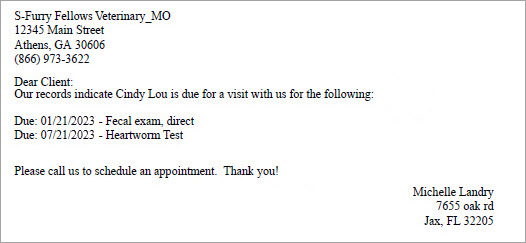 Running the Patient Reminders Report
Once you have created your reminder template, you will need to run the Patient Reminders Report to distribute your reminders.
Navigate to the Menu > Reports on the sidebar.
To run and/or edit the patient reminders report click on the edit pencil next to it.

From here you can view past reports by clicking on either the View, PDF, or Excel icons next to the past report, or if you want to create a new report click New Run.

This will bring you to the following screen where you can apply certain filters: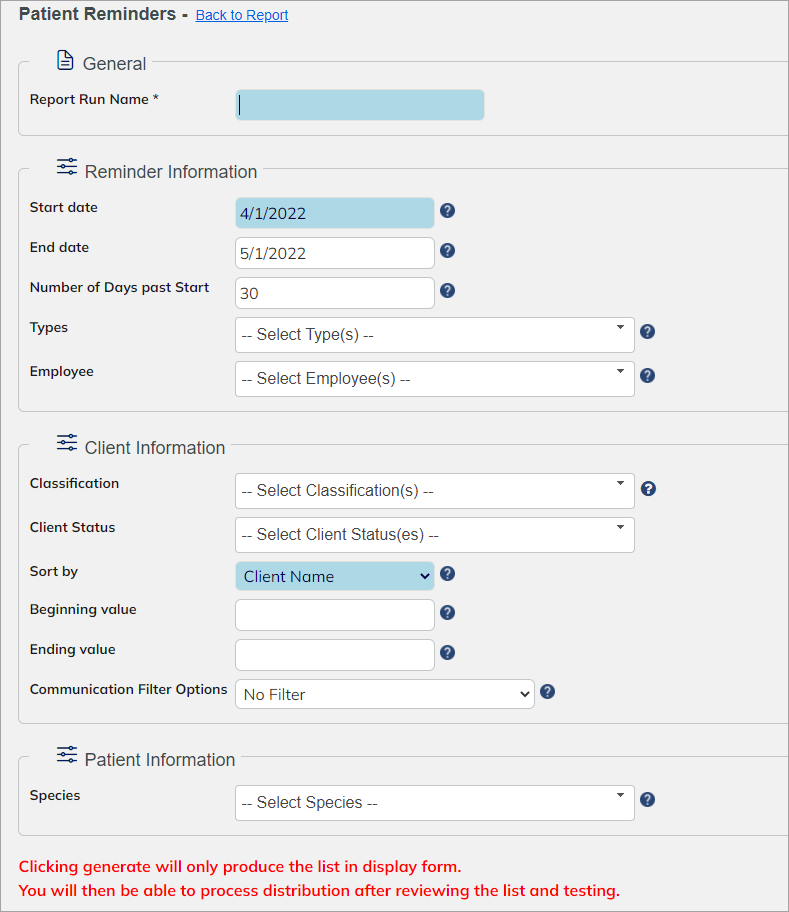 Report Run Name: You will need to give the report a name. Typically this would be something like "October Postcard Reminders"
Start Date: This is the date you want the system to start looking for reminders due. If you want expired reminders to show up you will need the start date to be a past date that way you can pick up any reminders that were due previously and that are possibly expired so that you can remind your clients again.
End date / Number of Days past Start: You will need to enter the number of days past start and NOT the end date. The end date is derived entirely from the number of days past start, so even if you put in a date that is a year in the future, if the number of dates past start is only 30 days, the report will only look 30 days past the start date.
Types: This is where you choose which types of reminders you want to send. For postcard reminders you will only want to choose EXTERNAL (General, Wellness, and Recheck) reminders. Callback reminders should not be sent on a postcard to your client. For more information on external vs. internal reminders please see this article - Reminder System Overview
Classification / Client Status: This is where you can choose to send postcards to only certain classifications and/or statuses of clients, if you have these set up.
Sort by: This will allow you to sort your clients a certain way. This is not typically required when sending postcard reminders.
Species: You can choose to only send reminders for a certain species.

Click Generate when you are done choosing your filters
Once you click Generate you will see a list of all your reminders.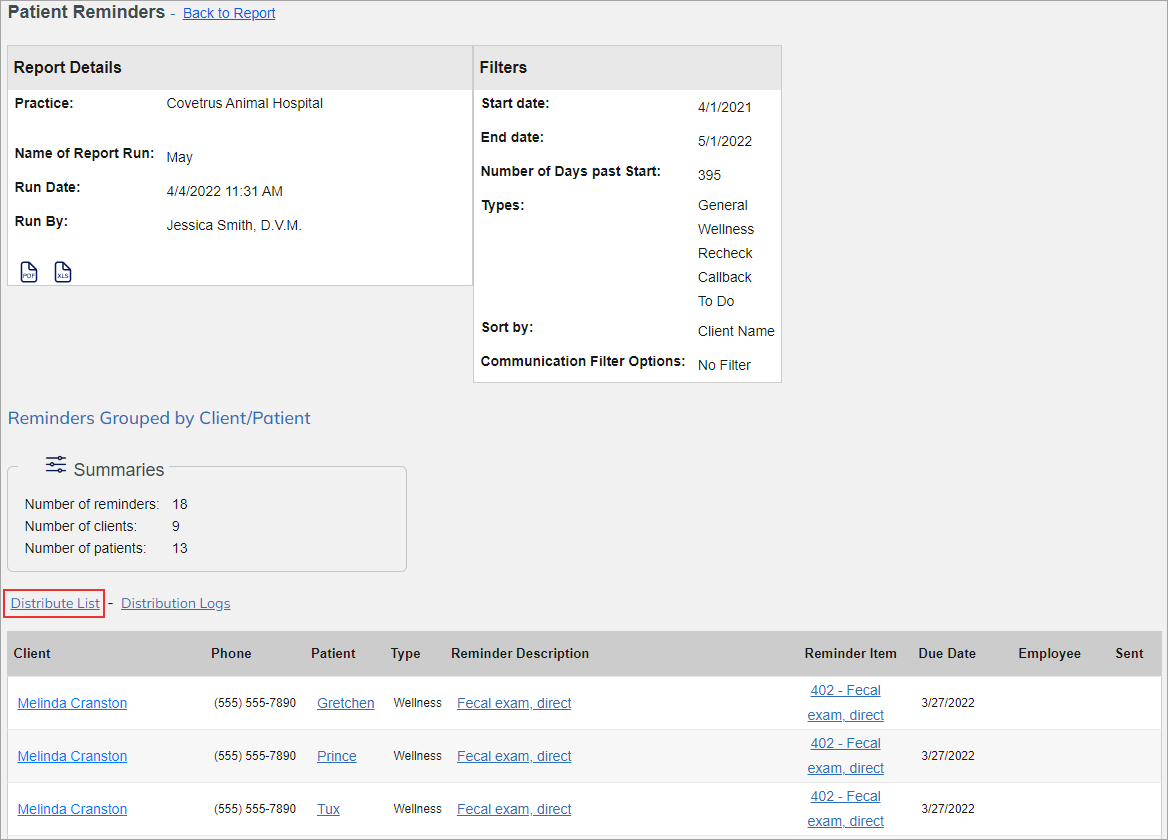 From here you can send your reminders by clicking Distribute List.
Once you click Distribute List the following screen will appear: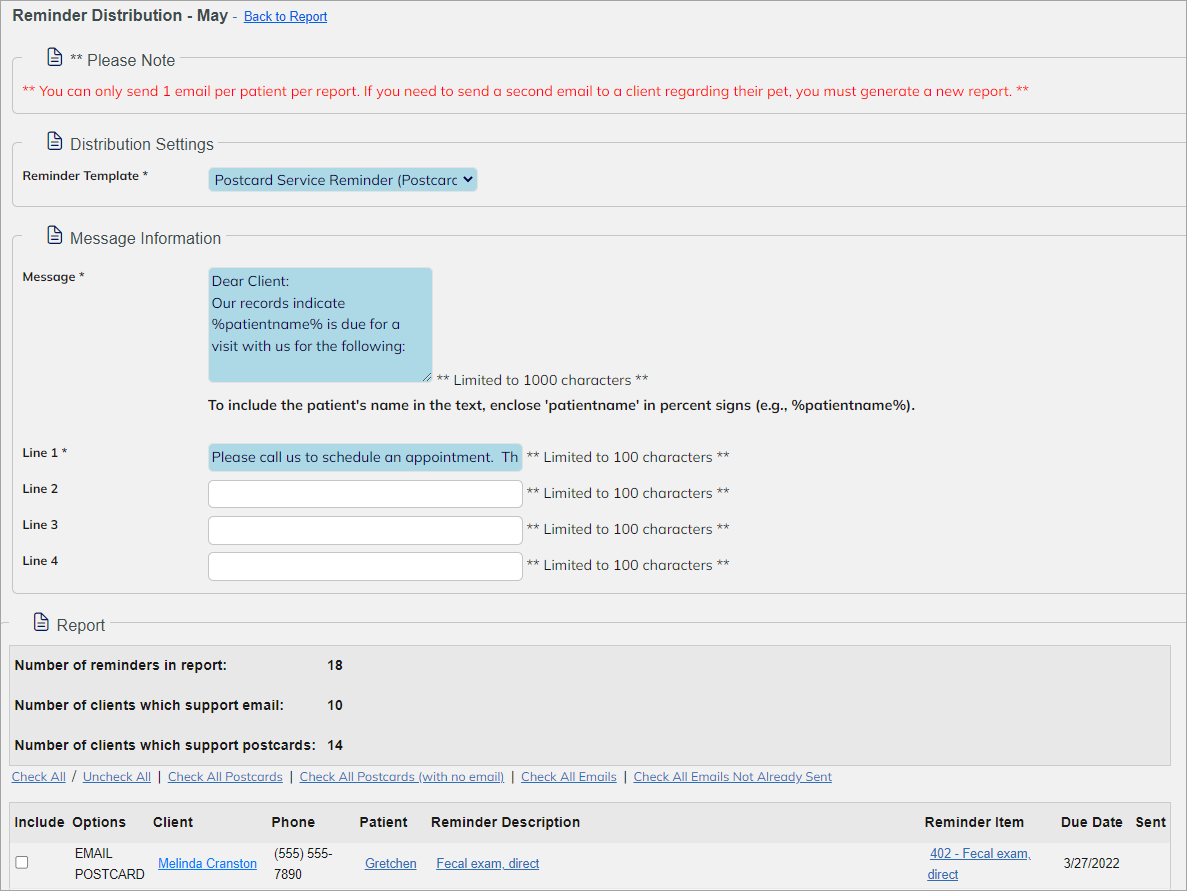 Reminder Template: You will need to choose which reminder template you want to send.
Message: This is the message that you configured in the Reminder Setup section (defined at the beginning of this article). You can edit the reminder template for this specific run here if you wish.
Check All Postcards: This will check off all clients for whom you have an address on this report to be included in the postcard reminders run.
Check All Postcards (with no email): You would click this if you only wanted to send postcards to clients for whom you do not have an email address. Typically you would click this if you had your Nightly Tasks setup and you know that they will receive an email and therefore do not need to receive a postcard.

Process: This will print the PDF of all your post cards and mark in the Client Communication Log that a postcard communication has been sent.
Generate PDF Only: This will only print the PDF document of all the postcards and not mark anything in the Client Communication Log.

Once you have generated your PDF, you can use it to print directly onto your postcards.
The PDF will be in the standard postcard format for Adobe Reader.
Also, please note that only 6 reminders will fit on a postcard. If your client has more than 6 patient reminders then multiple postcards will be printed.