New Account Setup
Covetrus Payments has partnered with Worldpay to integrate payment processing in Pulse, which saves you time and money! To get started, you may select one of the following options.
Contact Pulse Support or your Account Manager. They can submit a lead to the Sales team on your behalf.
Send an email to covetrus.payments@covetrus.com with your practice name and Covetrus account number.
Existing Worldpay or Vantiv clients
Practices with an existing Worldpay or Vantiv account migrating from a previous PIMS can email channelsupport@worldpay.com to initiate the process of securing the proper credentials.
The subject line of the email should read: MID [Account #] 'DCF Request' -- replacing [Account #] with the practice account number.
A representative will reach out to help you switch the POS associated with your Worldpay account to Pulse.
Setup and Configuration
Covetrus Implementations and Setup
For assistance setting up Covetrus Payments (WorldPay) integration, contact our Covetrus Implementation team.
Browser Best Practices
Before enabling the integration, it is recommended to disable 'Autofill' in your browser settings so that the browser does not try to auto-fill information when trying to swipe the credit card info.
Refer to your specific browser help to learn how to disable this feature.
Integration Setup in Pulse
From the main menu, open Settings > Billing > Payments.
Click the checkbox Use WorldPay Integrated Systems under the Payments Accepted section.
Checking the box will generate a new section below to enter Merchant ID and password settings.

Enter the Merchant ID and account password in the relevant fields pictured below:

Allow for storing of tokenized cards enables Pulse to store customer card information (a card token).
WorldPay explicitly needs to enable the feature for the checkbox to work.
Credentials entered on this screen should not be an account nickname.

Error messages along the line of Card declined, and invalid credentials are typically caused by account aliases or nicknames.
Hardware Setup and Configuration
Unencrypted USB Swipers (Uncommon)
Note: Dejavoo terminals and unencrypted USB swipers cannot be mixed and matched in Pulse. Once adding a Dejavoo terminal, Pulse's interface changes to only allow credit card entry via terminal (or manual entry by skipping electronic processing).
Unencrypted USB swipers do not require additional hardware or configuration. They operate as human input devices (HID) and enter text characters into a field where a cursor is placed.
Use the Credit Card Track field to enter card information.
Dejavoo Terminals
Connect the terminal to the clinic network and the Internet for relevant updates and the ability to add the terminal in Pulse.
Dejavoo hardware has a limitation where WiFi network names containing non-alpha-numeric characters cannot be entered into the terminal. Terminals will only be able to connect to wireless networks named appropriately.
Dejavoo devices are set up in Pulse by clicking the Add New Payment Terminal link, giving the terminal a name, and entering the terminal Serial Number as pictured below:

Serial numbers can be found on the back of your Dejavoo Terminal as pictured below: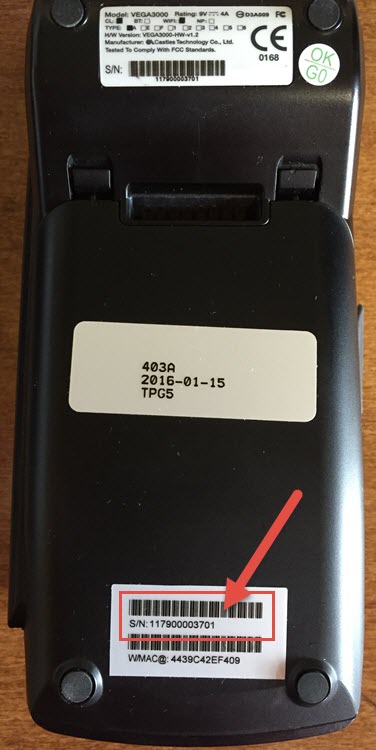 Supported terminals (updated on 3/5/2021)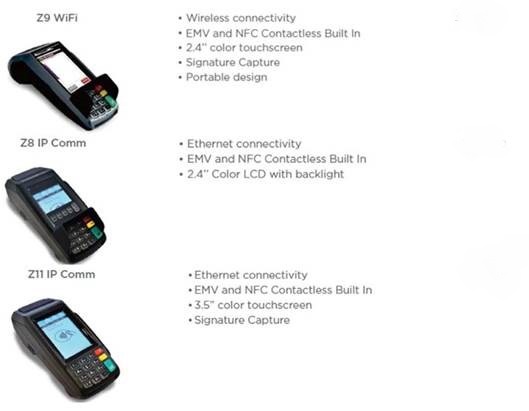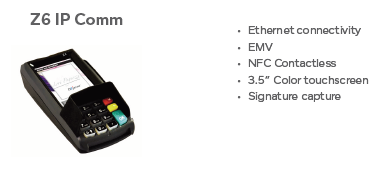 Related Articles