Packages allow you to group together multiple billable items (inventory items, procedures, and labs) into one overall bundle where you can update quantity and price.
Creating a Package
From the main menu, click on Menu > Settings > Products & Services > Packages.
On the Package Management screen, click Add a New Package.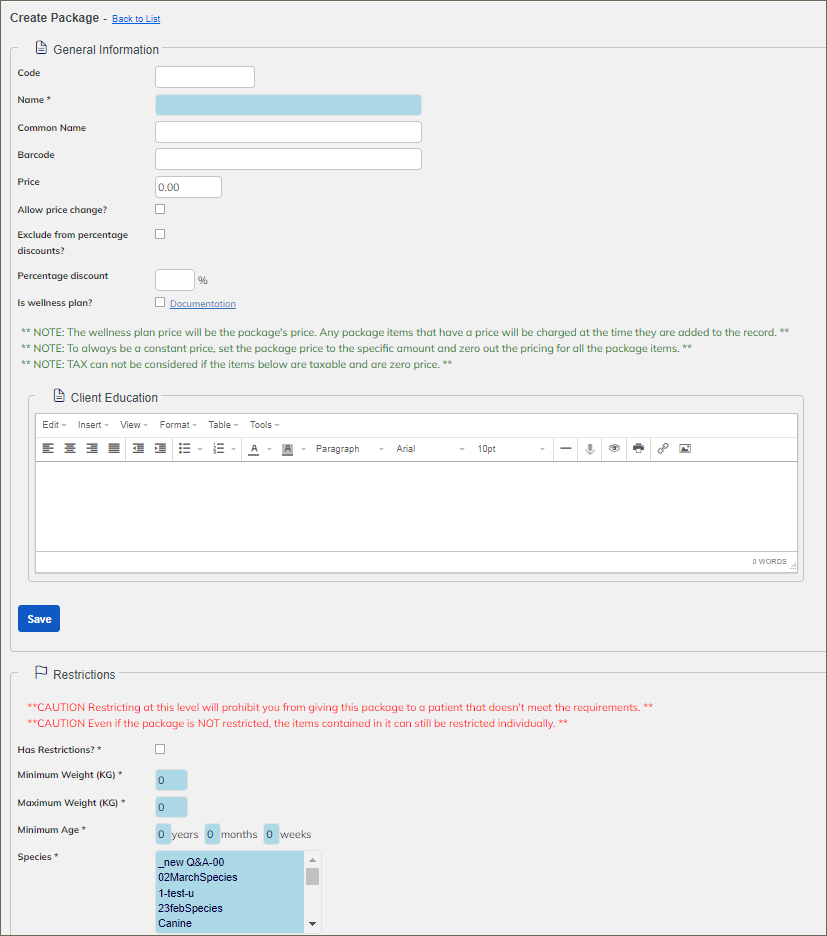 You can enter a code for this package, but it is not required.
Enter the Name for your package.
Alternate Common Name that will appear on invoices.
The price of the bundle, added to the components price. Note: This price field is NOT TAXED and should only be used if your package is not taxable.
The Allow price change, Exclude from percentage discounts, and Percentage Discount fields are package settings for: should an employee with the right to change prices be allowed to change the price of this package; should this package be excluded from any group or client discounts (everyone must pay full price); and would you like to put an overall discount on this package for everyone.


If this package will be used as a Wellness Plan, when checked, additional options appear:

Production override: specifies a fixed dollar amount to use in production reporting when invoicing the Wellness Plan..

Plan duration in days: configures the duration (and expiration) of the Wellness Plan.
Out-of-plan discount: this tells the system what discount the client will get for items that are outside the Wellness Plan.
Auto Renew?: if checked, the plan will renew when it expires.

A Client Education section is optionally emailed to the client if you add the package to a patient's medical record. Typically this is only used if you do not have any handouts associated to any of the billable items in the package. Cannot be printed, best practice for printing is to use handouts associated with individual billable items in the package.
Restrictions allows package restriction by patient weight, age, or species.
Save will configure the package and permit you to add items to it.
Allows the user to configure package information (configured on the previous screen)


Allows the user to edit package Restrictions (weight, age and species).

The "Add Item" field is used to add items to the package. "Add Item" will allow you to search by name or code throughout all your inventory items, procedures, and labs.

If you have specific procedures, inventory items, or labs that you want to add you can click on any of these links to only search through that particular class of item.
Related articles