The Patient Monitoring section of the patient medical record lists Inventory items, Labs, and Services you would like to actively monitor for your patients and are configured by species. This article provides instructions on adding items to Patient Monitoring.
Before proceeding, you'll need to determine when the inventory item, lab, or service should appear in the Patient Monitoring section of the patient record. You have two options:
Always Show, even if the patient has not received the vaccination.
Only Show when it is on record that the patient has received it in the past (either as a Treatment or manually added).
To add an item to patient monitoring:
Go to Menu > Settings > Medical Setup.
Select the menu option Patient Monitoring.
Choose the desired species in the Species drop-down menu.
If the desired item is not listed, click Add Item to Monitor.

An Add Item window select the items you'd like to have appear in the patient monitoring area.
Choose the desired Type (Inventory, Lab, or Service) from the Type drop-down menu.
Choose the appropriate Category from the Category drop-down menu.
Click the plus (+) icon next to the desired item(s) to add to the Patient Monitoring list. Click Close when done.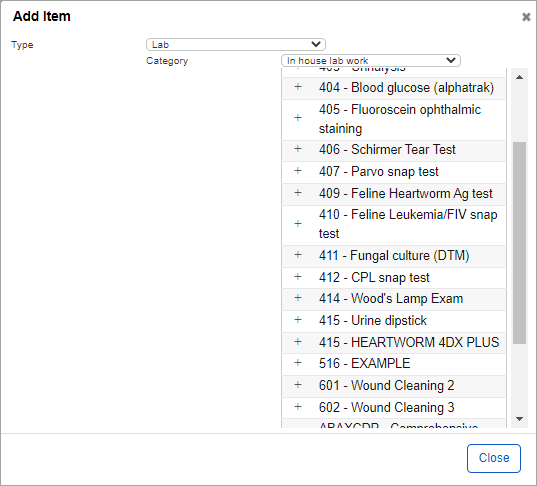 To always show, set "Always Show" to green () and ensure "Active" is also green ().
To only show if the patient received the item in the past, set "Always Show" to red () and ensure "Active" is green ().

Additional Resources
How do I change patient monitoring settings?
How do I remove an Item from patient monitoring?