Question: How do I change the Core Vaccine Monitoring settings?
Answer:
Core Vaccines are the vaccines you would like to actively monitor for your patients and are configured by species and by practice. This article provides instructions on updating existing vaccinations' Core Vaccine monitoring settings.
Before proceeding, you'll need to determine when the vaccine should appear in the Core Vaccines section of the patient record. You have two options:
Always show, even if the patient has not received the vaccination
Only show when it is on record that the patient has received it in the past (either as a Treatment or manually added)
IMPORTANT: You will need to have the business manager role to access the Settings (

).
Steps
Click the Settings icon ().
Select the menu option Core Vaccines.

Choose the desired species in the Species drop-down menu.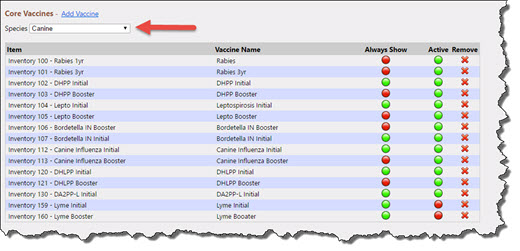 Find the desired vaccination in the list you would like changed.
To always show, set "Always Show" to green () and ensure "Active" is also green (). To only show if the patient received the vaccine in the past, set "Always Show" to red () and ensure "Active" is green ().

Additional Resources
Core Vaccines Monitoring - Overview
How do I add a vaccination for Core Vaccine Monitoring?
How can I remove a vaccination from Core Vaccine Monitoring?