After you have had support enable the integration for ePetHealth, you will want to make sure that you have selected the options that are needed for your practice.
Go to Menu > Settings > Practice Setup > General.
Expand ePetHealth.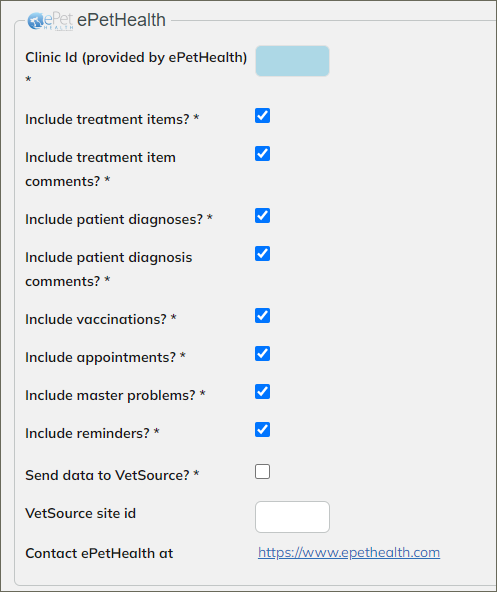 You will notice that you have an number of options that can be selected for the data to be sent to ePetHealth. Enable each option you would like and at the bottom of the screen click on Save to save any changes you made.
Additional Notes
The option "Combine all practices from group" will allow you to send the data from all of the practices of a multi-practice set up and would only require that you enable the ePetHealth integration at one practice instead of each individual one.
If the 'Do not send patient reminders' option is checked on the client's general information, it will prevent the client/patients from being included in the data sent to ePetHealth.
The 'Do not email' option on the client's general information is not used when determining what data is sent to ePetHealth.
The patient status of 'No Reminders' is also ignored and reminders are still sent to ePetHealth for patients in that status.