Below are the new features developed for eVetPractice version 19.30 released on 3/26/19.
Medical Records
New links have been added to the Add screen for Exam Forms and History Forms. Users will be able to create a new exam or history by copying a previous form. This will save the user data entry time. There is also a link to Review past exam or history forms; the forms will no longer auto launch when selected.

Save Enhancements Added to Exam and History Forms
A Save Vitals button has been added just below the Vitals section of Exam Forms. When clicked, just the patient's vitals are saved and a message confirming the vitals were saved will appear.


When changes are made in other areas of an Exam or History Form, a message confirming the section has been saved will display.

Settings | Classifications
The gender can be customized for a species. From the screen, click Settings () then click on . Select the Species from the drop-down list. Click Edit to display the gender list. Select the appropriate gender options for the selected species. Click Save to save the changes.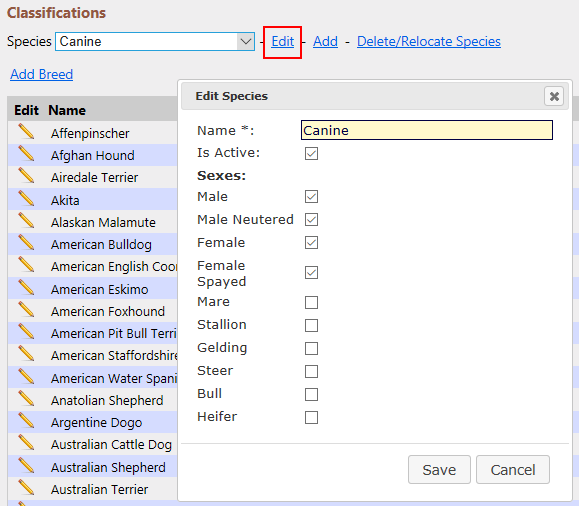 Corrections
When using the new SaasConex Integration, payments between Bluefin and eVetPractice will match.
When the service date or quantity for a package line item is modified, the change will not affect the price of the item.
For Wellness Plans - Automated Renewals, the UTC time has been adjusted for the practice's time zone so the program will charge the card on the correct date.
Wastage for controlled drugs that are invoiced will be reported correctly on the Controlled Substance Report.

If a client is set to "Do Not Email", they will not receive any automated emails sent from eVetPractice, including the appointment confirmation email sent upon appointment creation.

When a partial payment is applied to a Wellness Plan, the amount paid on the plan will be updated with the partial payment amount and the invoice status is not marked as fully paid.