Viewing Covetrus Orders
When you have the Covetrus Ordering Integration setup, you can begin using the feature.
Click on Menu > Inventory > Inventory Management.
Click on the link Covetrus Ordering. Orders placed within the last 90 days will appear on this screen.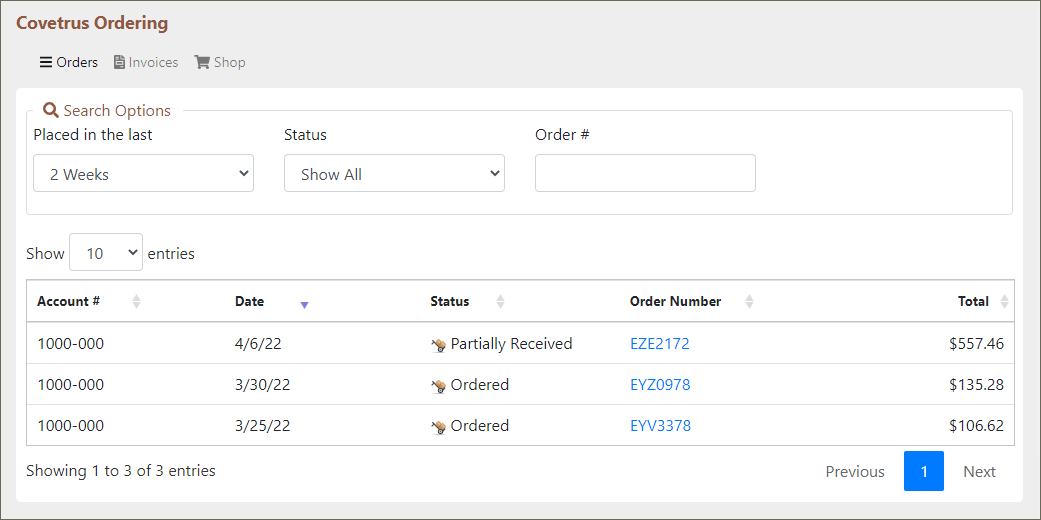 Orders - View orders placed with Covetrus. Click on Shop to create new orders with Covetrus.
Account - If your business has a main account and sub-accounts with Covetrus, use the drop-down list to select an account and view the orders placed under that account number.
Search Options - Use the search fields to search for an Order when order was Placed, Status, and/or Order Number.
Status - The following options are available to search order by:
Ordered (no item has been received)
Partially Received (some items have been received, other items on the order are still pending)
Closed - orders that have received all items
Cancelled - orders that have been cancelled
Click on the Order Number link to open and view the items on the order.