The following features and enhancements are introduced in ver. 19.60 of eVetPractice released on 6/5/2019.
In this release, you'll find we...
Launched our integration with Covetrus Prescription Management (Vets First Choice) that syncs your online store activity right into your patients' medical history
Allowed you to make documents public by default to ensure your clients can see them when logging into the Client Site
Added a setting that lets Business Owners more tightly control billable items and prices if they choose
Introduced some powerful tools, especially for new practices, to help reorganize billable items
Got rid of an annoying step when creating callbacks by defaulting the date field to the current date
Made dosage settings even more useful by giving you a way to quickly set the treatment quantity from the dosage calculation
Gave you more touch-friendly controls for our text boxes, especially if you like to snap pictures and include them in your medical notes and communications
Now show you how Patient Recapture is performing right from your eVetPractice settings area
Made templated SMS messaging through our Rapport communications suite easier to use
Squashed a lot of bugs, with a special focus on our QuickBooks Online integration
Prescription Management
With this release, eVetPractice now integrates with Covetrus Prescription Management! Find out more here!
Administration
Under General Settings | Medical Record Settings, a practice is now able to set Documents to the Public setting by default. By making this option a default setting, the practice avoids forgetting to make documents public which could then become hidden from the client site.

To provide a business owner with more control over billable items, two options have been added under Miscellaneous Settings.

Restrict billable item creation and deletion and changes to code and name to business owners
When enabled:

The options to add/copy/delete billable items will be hidden.
The Show Code and Name will be read-only fields.

Restrict billable item price management to business owners
When this option is enabled:


Show cost, markup, price, min price, max price, and service fee as read-only fields.
Tier pricing link will be disabled.
Still allow percent discounts.
Still allow cost to be updated via receiving workflow if the practice has this enabled.

By default, both options are disabled.
Billable Items
Users will have the ability to move billable items from one type to another or to another category, en masse.
From Inventory, Labs, or Procedures, click on the link to Move Billable Items .

In the Move Billable Items window, use the checkboxes to select the items to move.
Use the + and - buttons to expand or collapse groups. Use the links to expand or collapse all groups.
From the Type drop-down list, select the type of items being moved (Inventory Item, Lab, Procedure).
From the Category drop-down list, select the category the selected items will be moved to.
If items are being moved to a new category, choose Add Category from the Category list. A new field will appear so the new category name can be entered.

Click Validate and Move.
Use the Move History link to view items that have been moved.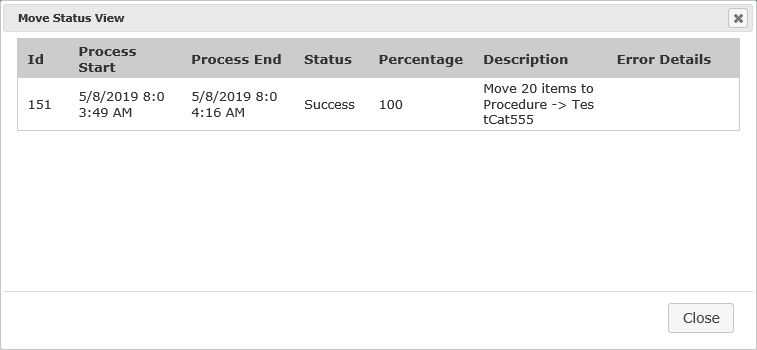 Callbacks
When creating a Callback from the Callbacks Dashboard, the Start Reminding, Due Date, and Stop Reminding dates will default to today's date, rather than 01/01/0001.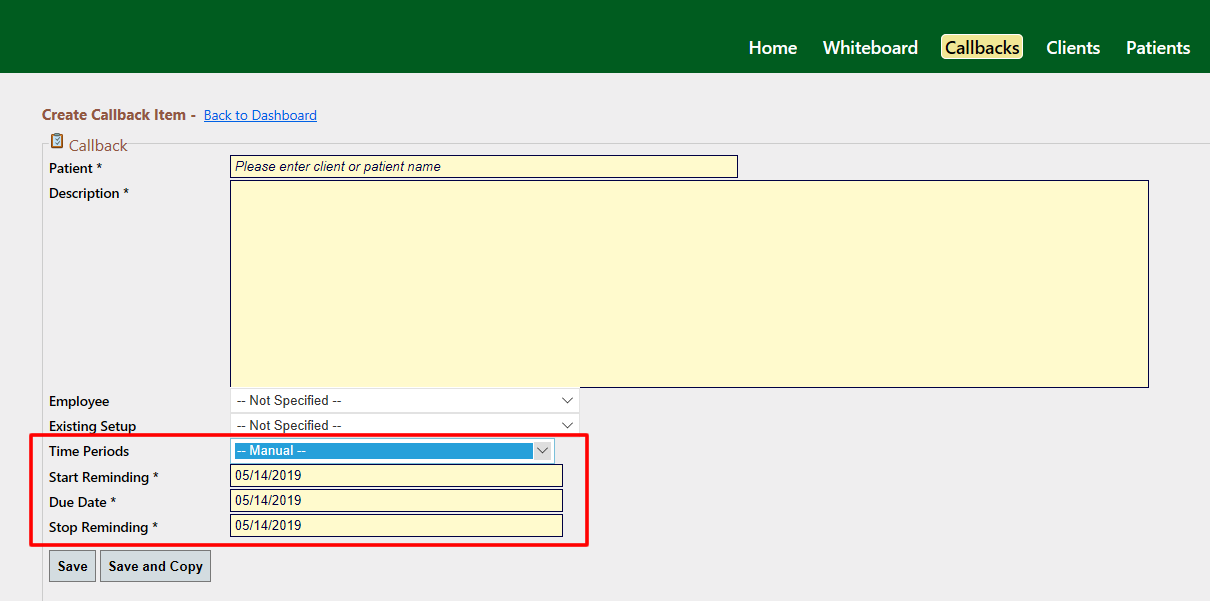 Invoicing
The option to Email or Print the client's Account Balance has been added to the buttons on the Checkout screen.

A link, Set Treatment Quantity, has been added for inventory items with Dosages configured. When this link is clicked on, the quantity of the treatment is overwritten with the Administer Value from the Dosage Calculation section.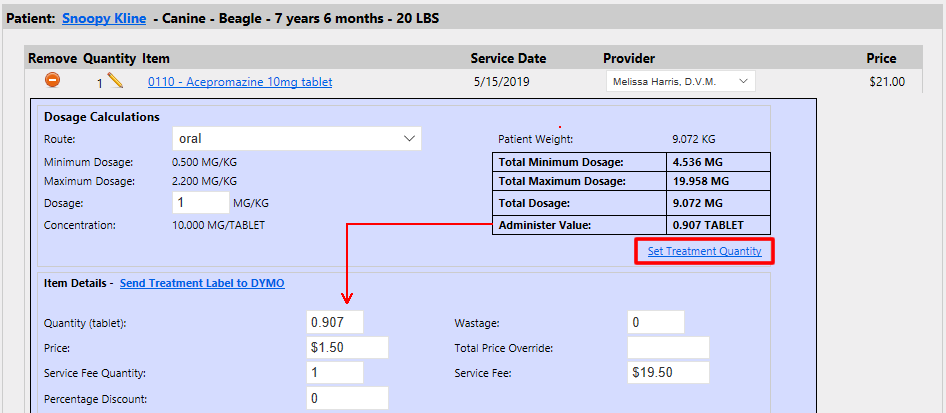 Medical Records
The ability to insert an image or insert a link have been added as buttons and options on the Insert menu located on the Comment screens for eVetPractice. This will make adding links or images easy and convenient when using a touchscreen device.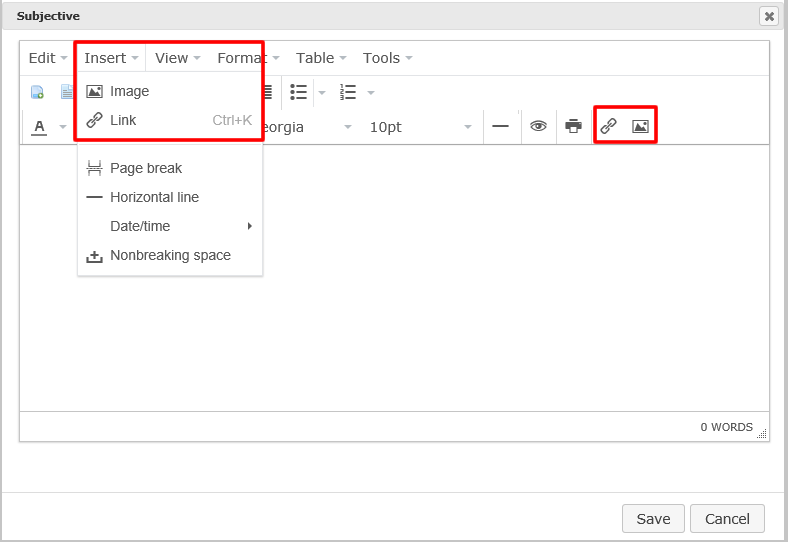 Patient Recapture Integration
Clinics enrolled in the Patient Recapture program may now access their Patient Recapture Portal site. This will enable a practice to modify their Patient Recapture settings and view their Patient Recapture reports. The patient recapture portal can only be enabled by support.
Once you have the link enabled...
Under General Settings, Integration Settings expand Patient Recapture Settings.
Enter the practice key and check the option to Enable Patient Recapture portal access.
Click Save.
Under Settings, you should now have the link to access the Patient Recapture portal.
Rapport
Clinics who've enabled our Rapport communication tools will now have their templated text messages auto-populated with client and patient information when sending!
Corrections
Comments, on IDEXX and Antech lab orders, will be disabled when the lab is pending. They will become available once the orders are imported.
When sending an invoice that had taxes modified on it to QuickBooks Online, the program will no longer generate an "XML" error in the queue.
When a payment is made and covers more than what is owed, the program will pay off the invoice and create a credit memo for the remaining credit so an error does not occur when processing payments with QuickBooks Online.
Pricing of a package item will reflect what is configured in tier pricing properly when added to a treatment or package setup.
A prompt will now display to select an existing client when a duplicate phone number is entered on client creation.
Patient document names containing an underscore will no longer cause any problems printing a patient Medical Record
The Provider Summary section the Sales Report has been corrected to accurately report the dollar value of an item returned.
Reports and the date picker on various screens will work with Locale set to "English (Canada)".
IDEXX in-house lab orders will accept lab results from similar types of lab orders.
Trailing spaces in a code for IDEXX VetConnect will be ignored when the order is submitted to prevent the order from failing.
Returned items will reflect the price it was sold at when a minimum price is set on the item but the actual price is lower. The correct value will be imported into QuickBooks Online.
Taxes and totals from eVetPractice have been enhanced to match when sent to QuickBooks Online.
For Canadian practices, invoices with taxable and non-taxable items on the same invoice will transfer to QuickBooks Online properly.
When returning partial quantities, the Controlled Substance Log will have the correct value for both first and second returns, and both will reflect the "gain" and not the remaining amount sold.
The patient's date of birth will be included in the patient highlights merge field for document templates.
When printing the Medical Records for a patient, that includes an exam form with the patient's weight entered (by selection or printing all), the "Weight" will be displayed as the field name, rather than "No Results".
Formatting of certain IDEXX Reference Lab results have been corrected to display in a more easier-to-read format in the program.
Invoices that have been modified after they have been closed will replicate properly into QuickBooks Online.
Billable items that are not set to charge taxes in the setup, will no longer transfer to QuickBooks Online with taxes associated with them on an invoice.