To add a new terminal with a Worldpay integrated Credit card integration, perform the following:
1. Go to Settings/gear icon within eVetPractice -> click on Payments at the top part of the page to access the Payment Settings page. Business Manager role is required at minimum to have the payment settings page be available.
2. On the resulting page scroll to the bottom of the payment settings page and select the option "Add New Payment Terminal"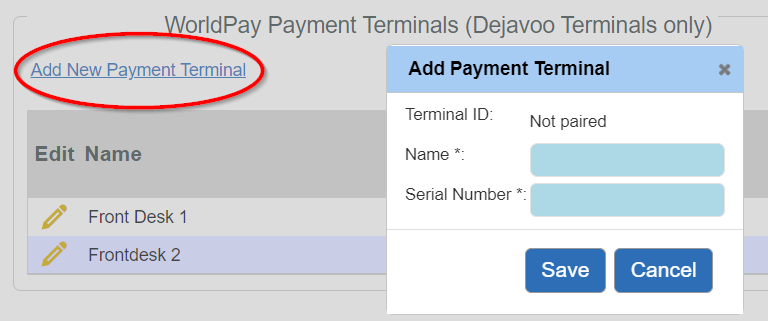 3. In the box name the terminal to what you wish it be. (Suggestion: Use naming scheme of where the device is located such as front desk, lab, front desk 2, front desk left, Main lobby)
4. Add the serial number from the terminal. The serial number can be found on the bottom part of the backside of the device and will be listed as all numbers. Once done hit save.
Here is an image of what to look for with the serial number and where to look: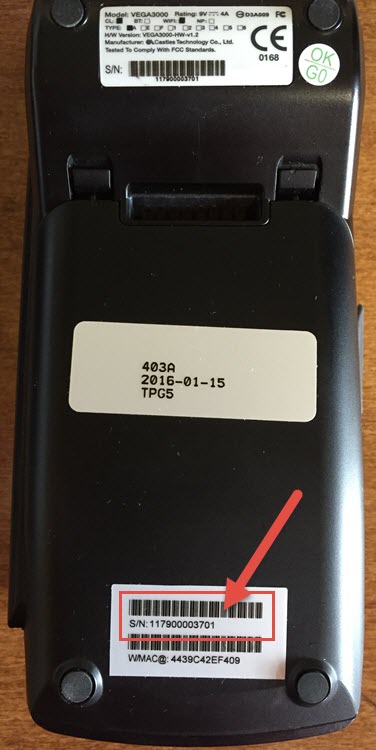 5. Once all the steps are completed you will need to run a test transaction to see if the terminal is running correctly, if it is not contact Support to help troubleshoot further.
To remove a terminal with a Worldpay integrated Credit card integration, perform the following:
1. Gear Icon (Settings) - Payments

2. Scroll down to the bottom of the page to where the current terminal is being seen
3. Inactivate the current terminal. To do this you will select the green status bubble to make it red

4. Delete the terminal. Use the red x to the far right next to the now red bubble to delete the old terminal