The appointment report gives clinics the ability to print appointment schedules, print mass check in sheets for appointments and send reminders to client regarding appointment via email.
To access the appointment report go to the Menu > Reports in the sidebar.
This will open a Reporting Dashboard.
To run the appointment report click the edit pencil to the left of the Appointment Report.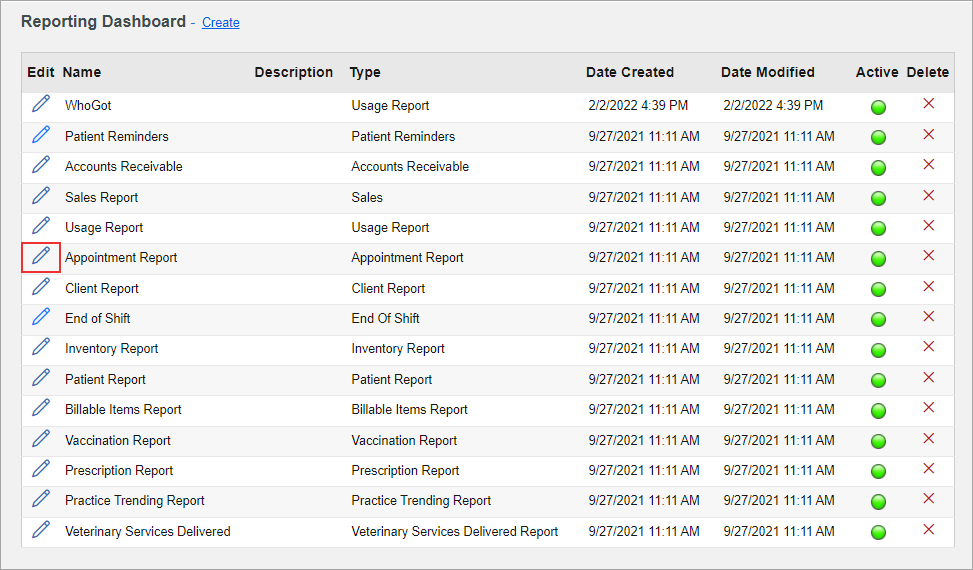 The screen below will appear. From here the practice will have the ability to change the Name of the report, give the report a Description for staff, view, print, download to PDF or convert to Excel previous runs.

To generate a new report click New Run and choose the filters to apply.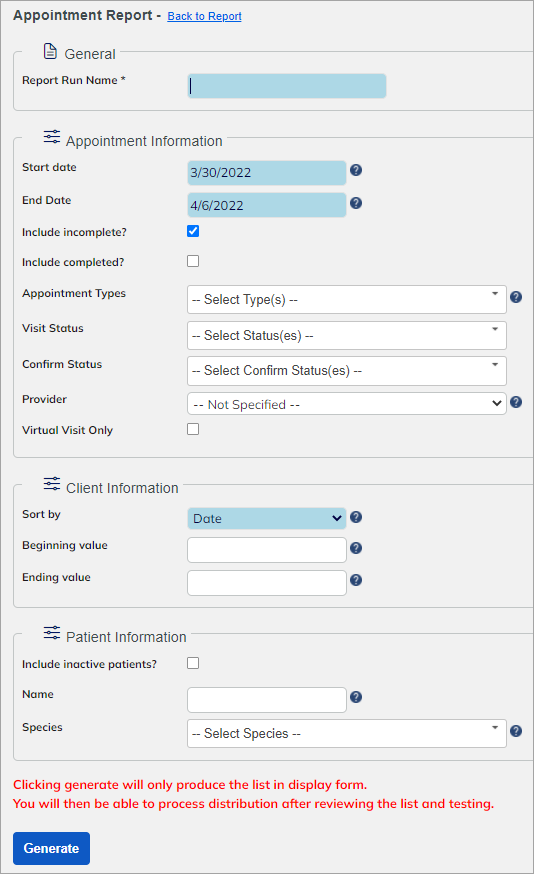 Appointment Information
Report Run Name: This will be the name displayed when viewing the previous runs
Start Date: The date the report will begin generating from
End Date: The date the report will stop generating from
Include incomplete?: This filter when selected will ONLY include appointments that have not been checked off as "completed"
Include completed?: This filter will ONLY include appointments checked off as "completed"
Appointment Types: The staff has the ability to filter the report by specific appointment types they see (If you want to include ALL Appointment Types then leave the filter on "—Not Specified—")
Visit Status: Filter by the visit "status" of the appointment while in the hospital *If applicable
Confirm Status: Filter by the "confirm" status of the appointment on if the client is coming for scheduled appointment. (If applicable)
Provider: the staff can filter the appointments based on the "provider" assigned to the appointments.
Virtual Visit Only If this filter is selected any appointments selected as a virtual visit will only appear on the generated report.
Client Information
Sort by: the staff will be able to filter by "Date, Client Date, Postal Code"
Beginning Value: what the value will start with when the "Sort By" is applied
Ending Value: what the value will stop at when the "Sort By" is applied
Patient Information
Include inactive patients?: This option will have patients with the status of "Inactive" include on the report.
Name: Filter by specific names of the patient on the report
Species: Filter by a patient species (Ex: canine, feline, equine) that will only show on the report.

Click Generate.
Once the report is generated the staff will have a list of the appointments scheduled within the filters and have the option to Generate Check in Sheets, Distribute List, or Distribution Logs.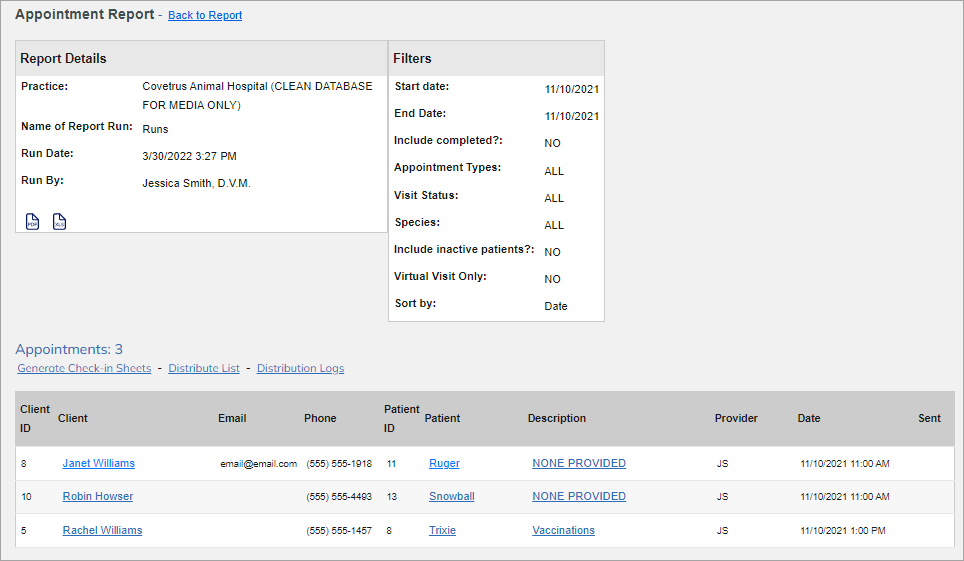 Related articles
Overview of the Appointment Report