You may want to remove a specific lab order from a patient's medical record or treatment. The following steps will guide you through the process.
As long as there are not any results showing in the lab order and the order has a status of Pending you can cancel it.
You can click on the Pencil icon of the lab item on the medical record to go to the Treatment screen. There you will see the link Lab Order.

Clicking on the link will take you to the lab order screen.
Click on the Cancel Order button and it will flag the order as canceled.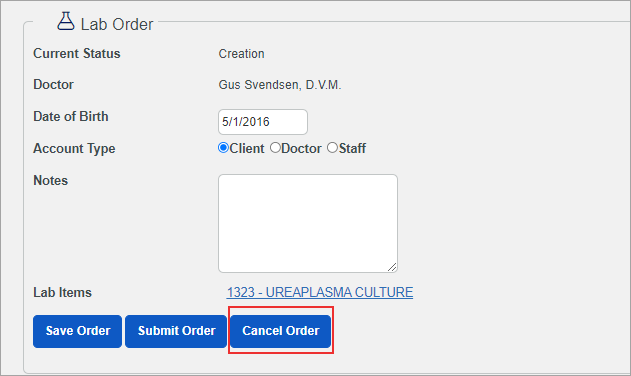 Once the lab order has been cancelled you can go back to the MR View by Groups and click on the Edit pencil for the appropriate lab entry.
You will see a Remove option to delete the lab order.
In the case of an IDEXX Reference lab that is still in a Creation status, you can click on the Cancel Order button within the IDEXX widget pop-up.
Once the order is cancelled it can be deleted under the MR View by Groups.