The patient reminder report allows you to obtain a list of future, current, or expired/overdue patient reminders. Pulse gives the practice the ability to send out patient reminders from the report run by email or generating a postcard.
Running the Patient Reminders Report
From the home page click Menu > Reports from the sidebar.
Click on the Edit pencil next to the Patient Reminders Report.


Enter the Date Range and filter as needed.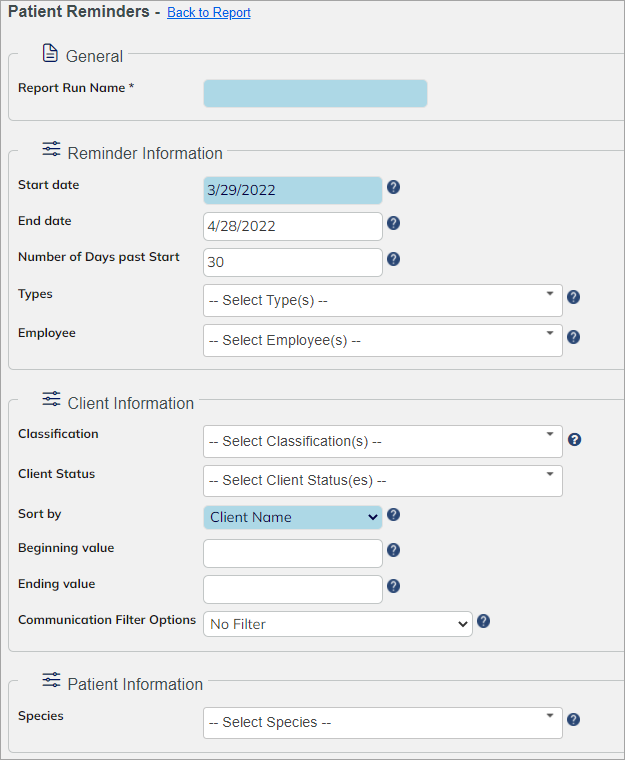 Start Date: The date the report will begin running from.
End date / Number of Days past Start: Enter the number of days past start and NOT an end date. The end date is derived entirely from the number of days past start.
Types: This is where the reminder type(s) are chosen to show on the generated report.
Classification / Client Status: Clinics can choose to only generate specific clients based on their classification and/or status if applicable.
Sort by: Sort for clients by Client Name, Postal code or County.
Communication Filter Options: This gives the clinic the ability to generate with the following:

Species – Choose only specific species (canine, feline, etc) that will generate on the report.

Click Generate.
When the report is finished generating, it can be exported to Excel. Excel gives you the ability to sort on the columns to locate and group patients together who have the same reminder.
Related Articles