To create or edit Payment Types you must have a Business Manager role or Business Owner role.
Click the Menu > Settings > Billing > Payments sidebar and scroll down to the Payments Accepted section.
Click the Add New Payment Option link to create a new payment, or a Pencil icon to edit an existing payment.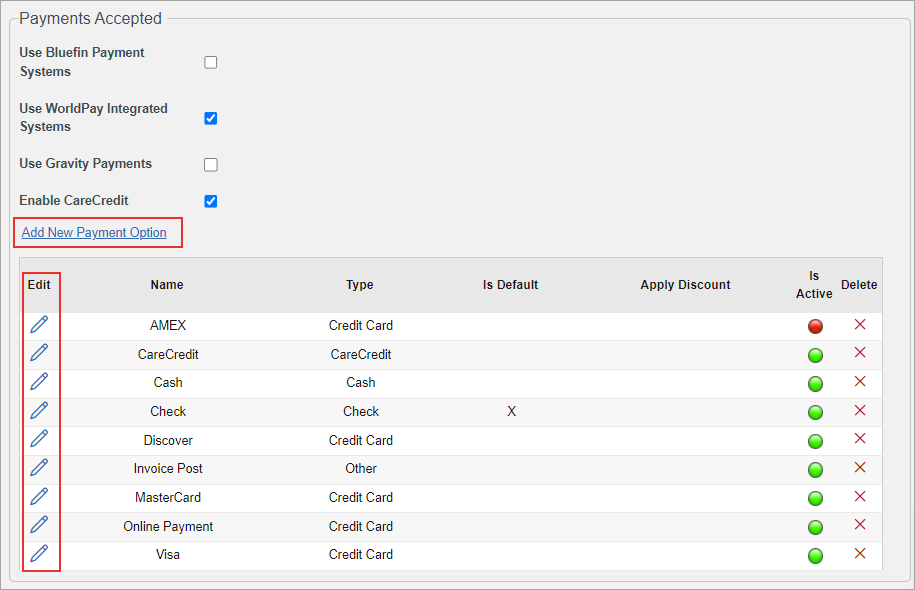 Payment Settings
Enter the appropriate settings in the Add Payment Option box.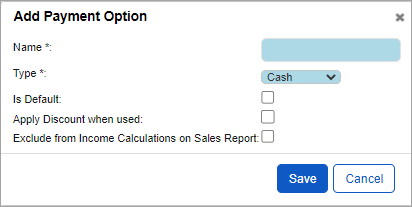 Enter a name for the option, select a Type, and select the 'Is Default' option if you would like this particular payment option to be the default option when making a payment.

Grouped practices: in order for a payment type to be fully functional across all practices within the group, the name will need to be an exact match (including upper/lowercase) in each practices payment types.
Example: American Express at one practice, AMEX at another, and Am-Ex at a third will cause the payment type to only be available at those specific practices.

Select 'Apply Discount when used' if you would like to give a discount when this specific payment method is used.

Example, some clinics will apply a discount if the client pays with cash over payment methods with processing fees.

Select 'Exclude from Income Calculations on Sales Report' if you do not want this payment type to be calculated as revenue on Sales and End of Shift reports.

Common for balance adjustments and write offs, especially when a client balance is sent to collections.
The transaction will still be included on the Sales and End of Shift reports within the Transaction List, but not in the Cash Summary totals.

Once you have your payment option set up or edits made, select Save.

New payment options will now display in the Payment Type drop down on the Check Out page.