Covetrus Care Plans is now the Pulse wellness solution. To enable Covetrus® Care Plans, please visit https://go.covetrus.com/careplans-pulse. To learn more about this solution, check out Covetrus Care Plans
Adding a Wellness Plan to a Patient Medical Record
Note: Only one Wellness Plan can be Active in a patient medical record at a time.
When a staff member accesses the patient medical record they will locate the tab named "Wellness Plan."

When the staff clicks on the Wellness Plan tab the staff will click on Add Wellness Plan link. *If restrictions are in place for wellness plans, the only plans that will appear are what the current patient has available.

Click on the + to add the wellness plan.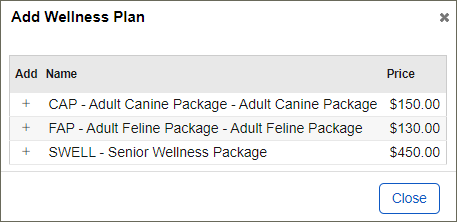 On the next screen, expand each section and make any changes and to checkout for payment.