Create multiple owners to one patient so they can invoice under one or more location(s) and/or person(s), but have the entirety of the bill split between the correct owner(s) without having to invoice under one client directly.
While this is most common for equine clients, these concepts could potentially be applied in many different practice settings.
ADDING AN ADDITIONAL OWNER
Add the owner as a new client if they do not already exist in the system. A patient is not required to be entered at this time.
Navigate to the patient's record.
Click on the patient's General Information tab and expand the General Information section.
Click on Change next to Owner.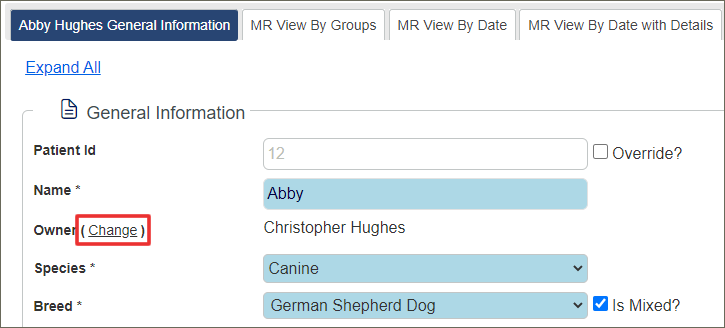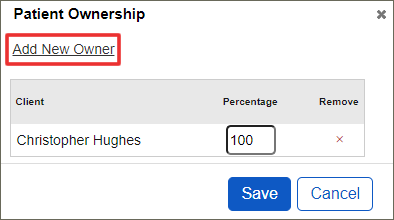 Enter the new owner's name then click Add.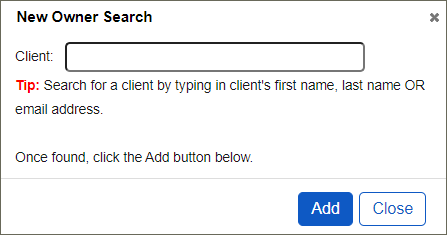 Leave the newly added owner with 0% (if no billing to this client is to be applied) or whichever percentage of the invoices need to be charged to this owner when invoices are created and click Save.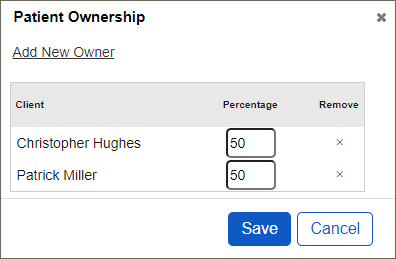 The practice can add as many owners as needed. Add the percentage each owner is responsible for invoice totals. The percentages must add up to 100%.
INVOICING % OWNERS
Navigate to the owner's client profile and then Quick Invoicing section.
Invoice as normal, but notice that when "Check Out" is selected at the bottom of the Quick Invoicing section and are directed to the checkout screen, the owner(s) will show if they do or do not have a balance due. However, if the staff navigates to the original owner's account, the system will reflect that they owe for all or allotted charges for their particular animal(s) in their Account Balance section.