To find a list of active clients who have not visited or made a payment in a certain time frame, you can run the Inactive Client Report to obtain this information.
The report will return a list of clients who have values before the date entered.
Filters for the Inactive Client Report include:
Last Visit Date (last appointment date)
Last Payment Date
Date Created Prior To
Running the Report
Click on Menu > Reports from the sidebar.
Click on the edit pencil next to the Inactive Client Report.


Enter a Name
Clear or enter the appropriate date and other filters.
Click Generate.
NOTE: The Client Information Filters are optional. You do not need to use all three filters, it is best practice to use only the filters most relevant to your reporting needs.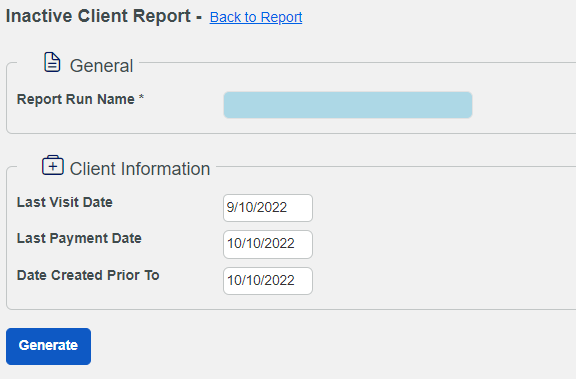 For example, entering a "Date Created Prior To" of 02/01/2021 will return all clients who were created before 02/01/2021.