Question: How do I set up and use the quick links in the medical record?
Answer:
The new and improved Quick Links are introduced in April 2020. These Quick Links are designed to be touch-friendly and easier to access. They are customizable so you can choose features that your team would like to have quick access to from medical record.
By default, you will have access to the top most used* 20 features. The first ten are visible while the next ten are hidden and expandable. The rest of the features are setup as not shown.
*Based on all practices analytic tracking result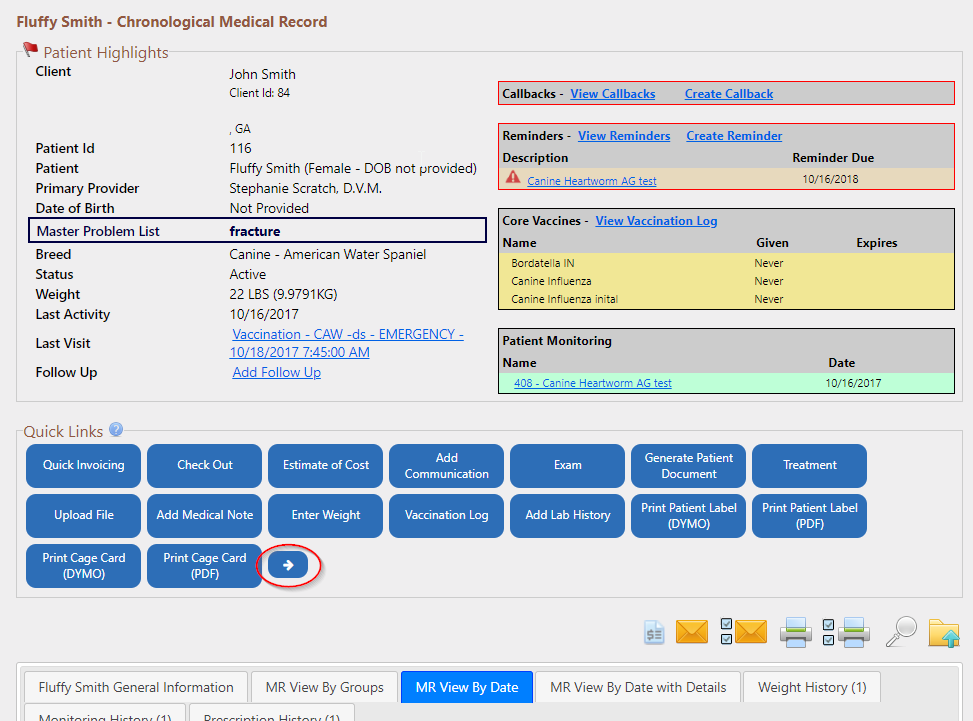 To access hidden Quick Links, click on the small expand button

. Hidden Quick Links will appear. To hide them again, simple click on the small collapse button

.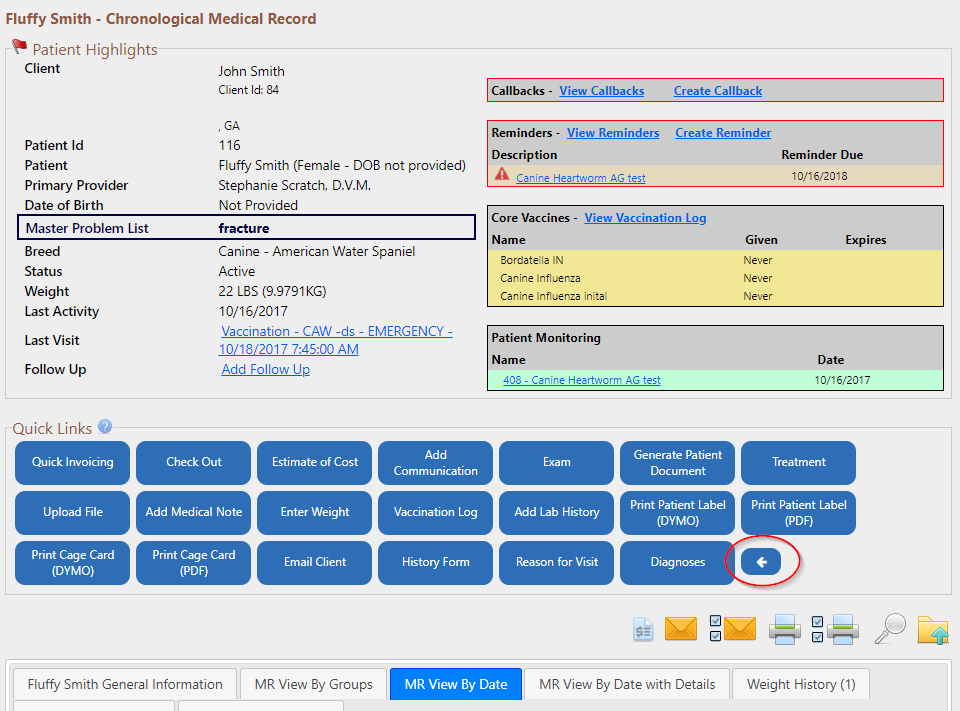 To customize Quick Links for your practice, go to settings

and expand Medical Record Settings section

Select

next to Quick Links to expand customize Quick Links area.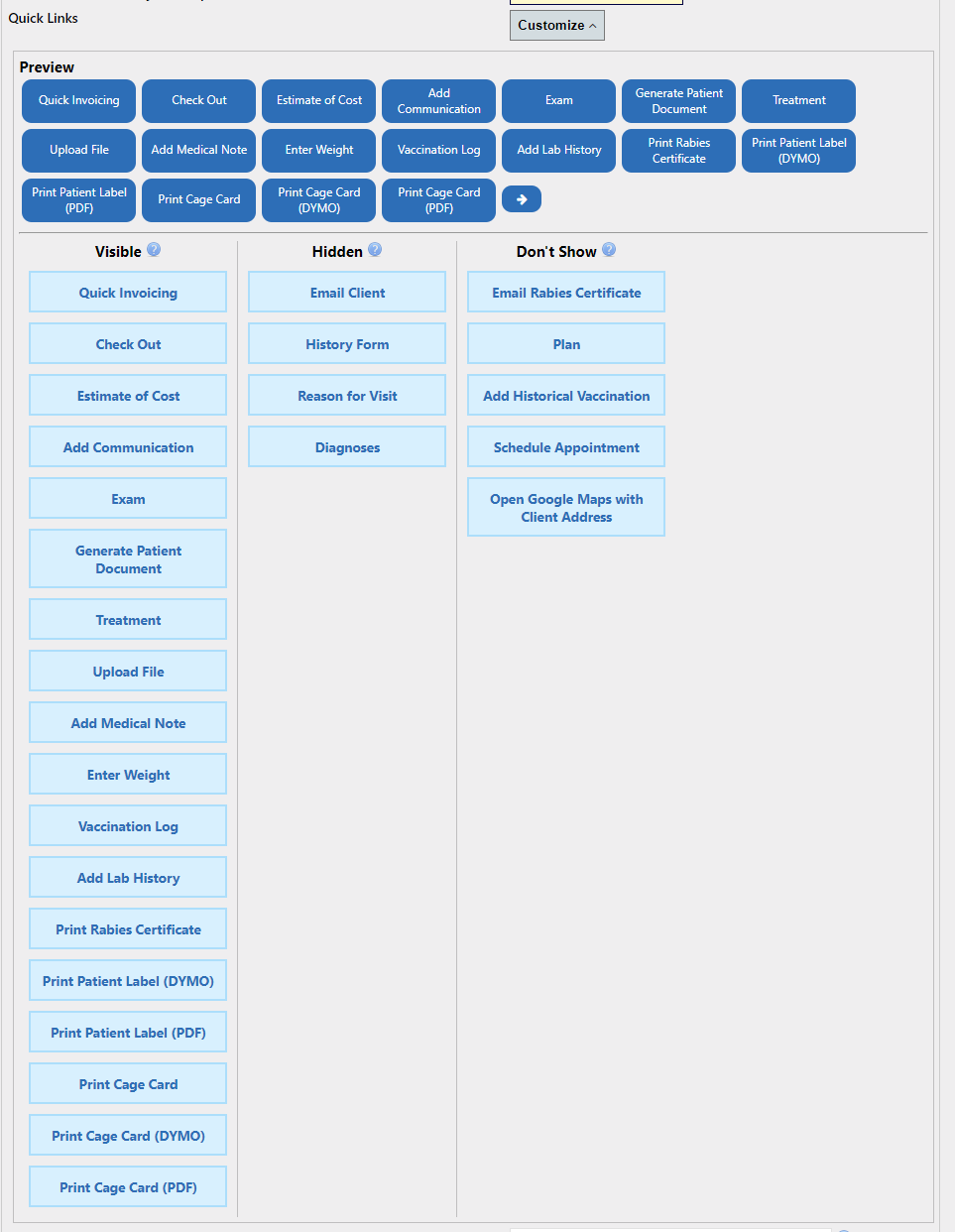 Use your mouse to drag and drop Quick Link buttons to Visible, Hidden, or Don't Show column. You will be able to see the effect of your change instantly from the Preview area.
Each link placed in the Visible column will be automatically visible on the medical record.
Each link placed in the Hidden column will be initially hidden on the medical record, but can be expanded into view.
Each link placed in the Don't Show column will not be accessible from the medical record.
Enjoy customizing Quick Links to work best for your practice work flows. Be sure to select Save to save your changes!
We have made some updates to quick link names. Please see below listing for reference:
| | |
| --- | --- |
| Original Link Name | New Link Name |
| Start Quick Invoicing | Quick Invoicing |
| Checkout Client | Check Out |
| Generate Estimate | <Practice System Defaults Setting> |
| Add Communication Entry | Add Communication |
| Create Smart Flow | Create Smart Flow® |
| Sync Patient With Cubex | Sync to Cubex |
| Exam Form | Exam |
| Generate Patient Document | Generate Patient Document |
| Treatment | Treatment |
| Document | Upload File |
| Medical Record Notes | Add Medical Note |
| Add Patient Weight Entry | Enter Weight |
| View Vaccination Log | Vaccination Log |
| Add Historical Lab Results | Add Lab History |
| Print Rabies Certificate | Print Rabies Certificate |
| Print Patient Label(DYMO) | Print Patient Label(DYMO) |
| Email Client | Email Client |
| History Form | History Form |
| Reason for Visit | Reason for Visit |
| Diagnoses | Diagnoses |
| Anesthetic Monitoring Form | Anesthetic Monitoring |
| Canine Exercise Program | Physiotec® |
| Create Vet Dental Chart | Create Vet Dental Chart® |
| Print Patient Label(PDF) | Print Patient Label(PDF) |
| Print Cage Card | Print Cage Card |
| Print Cage Card (PDF) | Print Cage Card (PDF) |
| Email Rabies Certificate | Email Rabies Certificate |
| Plan | Plan |
| Create Historical Vaccination Entry | Add Historical Vaccination Entry |
| Schedule Appointment | Schedule Appointment |
| Print Patient Label | Print Patient Label |
| Print Cage Card (DYMO) | Print Cage Card (DYMO) |
Related articles