These features will be available when your practice automatically updates to version 2020.7 or higher. To see if your practice has moved to the latest release, click the help icon

in your quick-launch links to check.
Telemedicine Update - Take your telemedicine workflow to the next level by utilizing SMS reminders through integrated providers (MessageMedia or Rapport) and customizable virtual visit email templates. Review virtual visits usage through the appointment report.
Wellness Plan Enhancements - first of many more to come! Introducing the wellness plan history section, a new section to bring more clarity to each patient's past wellness plan.
New and Improved, Modern Interface Coming Soon to eVetPractice
You've given us feedback, and we've listened. The eVetPractice software you love is getting a more modern look and feel, starting mid-August. It's the same product you are accustomed to; just updated colors, fonts, sizes, and icons that are meant to provide a more pleasant experience.
This is the first of several updates that will improve the overall experience when using eVetPractice. To preview what is changing, and how you can prepare for this update, please join us on July 29th for a webinar on the new eVetPractice interface. You can register for the webinar here. We hope to see you there!
Wellness Plan Improvements
In this first line of planned releases to improve your wellness plan productivity, we are introducing a new area to view historical wellness plans that have been previously assigned to your patients. Easily view high-level plan details throughout your patient's history as well as an expanded view of plan items included at the time of the plan.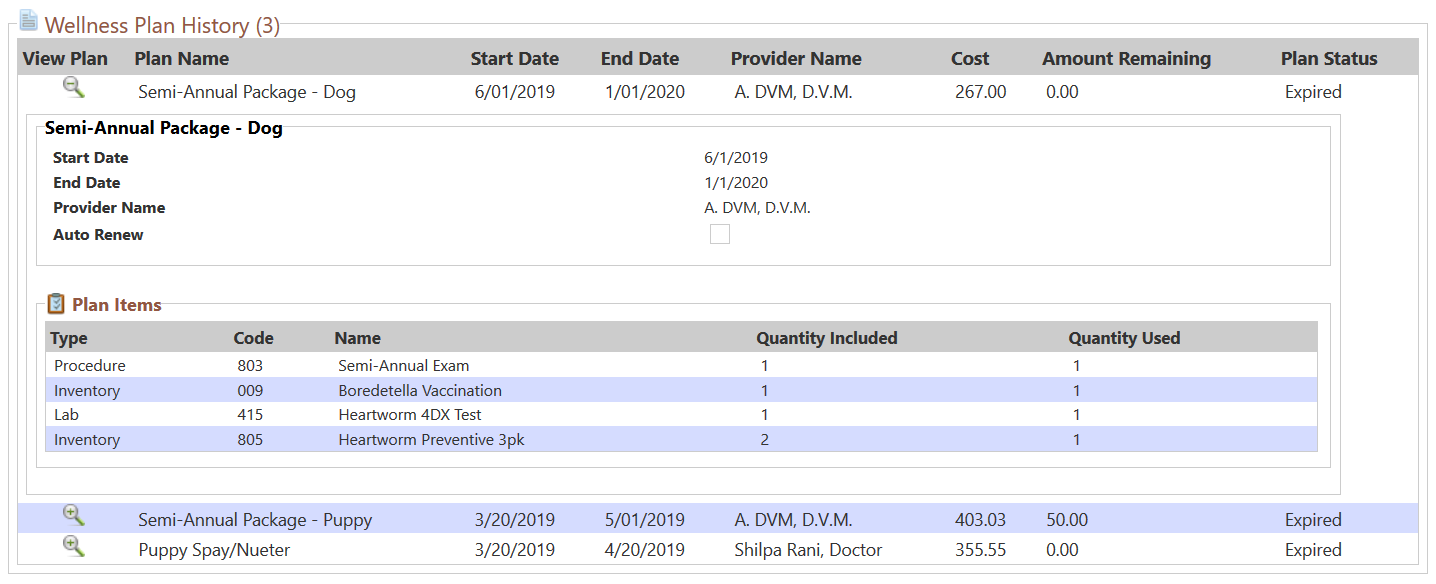 Telemedicine
Phase 2
Three new telemedicine features are introduced to enhance your virtual visit appointment workflow.
Virtual Visit Email Template
You can now customize your virtual visit email template! From email template section, set an email template as virtual visit by selecting "Is Virtual Visit Template". When this option is selected for a new email template, an example email content is generated with virtual visit merge fields. You can update the content or enter your own.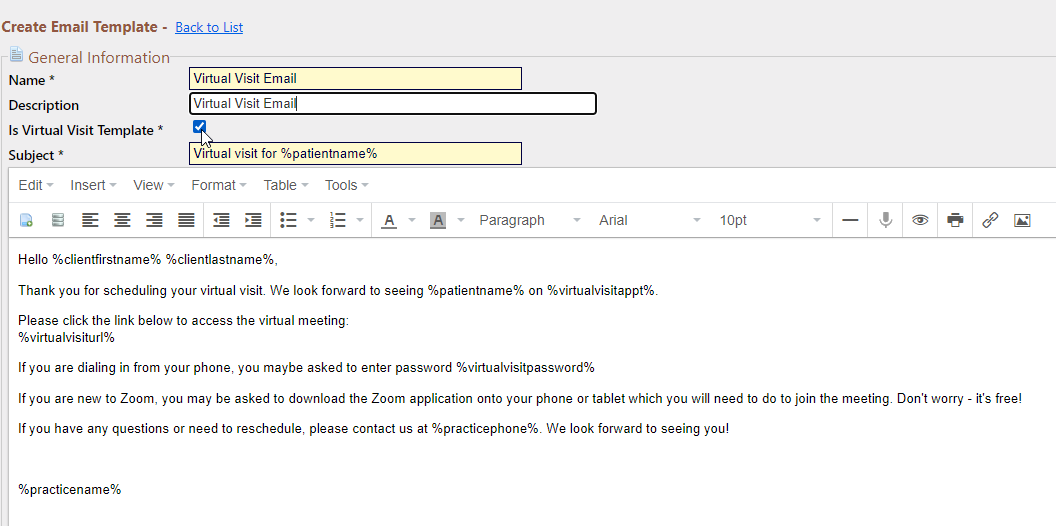 There are new merge fields available for virtual visit email template:
%virtualvisitappt% - virtual visit date and time
%virtualvisiturl% - virtual visit participant link
%virtualvisitpassword% - virtual visit password
Once a virtual visit email template is created, it is available for selection from virtual visit email.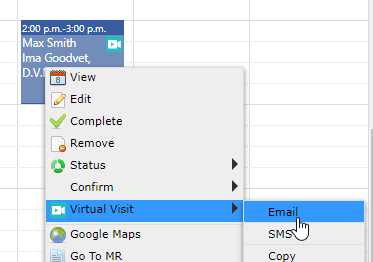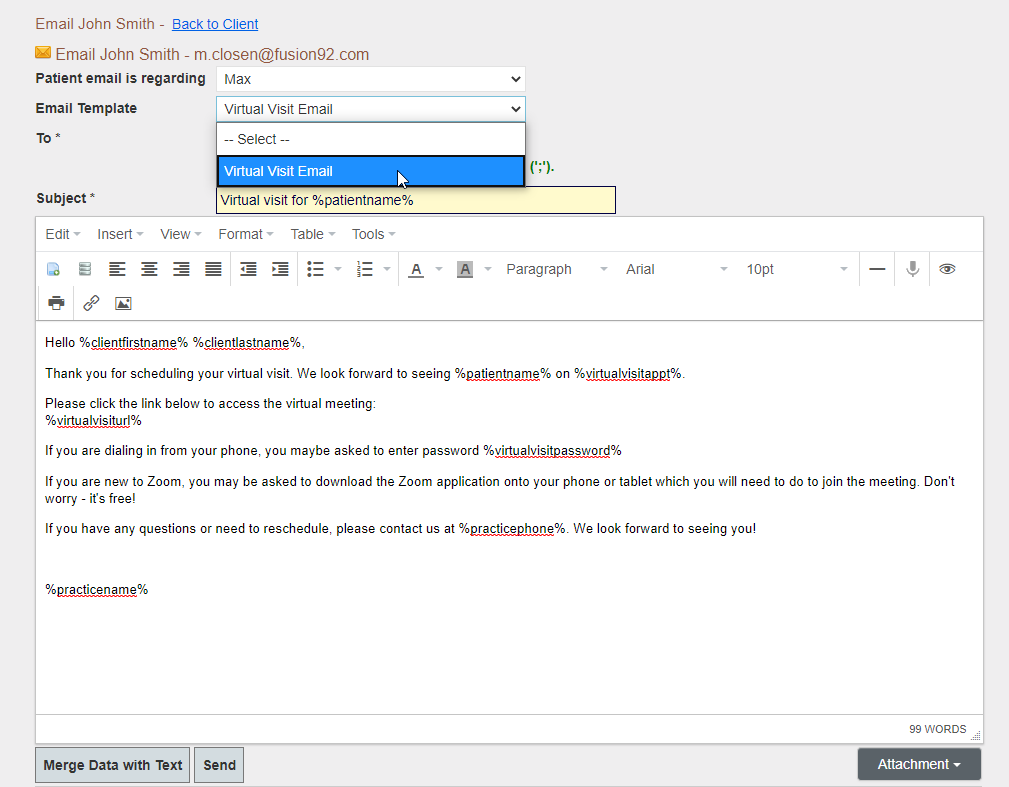 SMS reminder
With this update, you can send SMS reminder for your virtual visit through your integrated provider, i.e., MessageMedia or Rapport. If your practice does not have SMS integration enabled, you will be able to send SMS for your virtual visit very soon. Please stay tuned.
To send a SMS reminder for a virtual visit appointment, locate the appointment from your practice calendar and right/left click, select Virtual Visit > SMS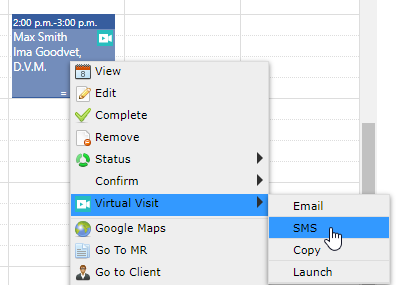 SMS window will open. You can select an existing phone number for a client or add new. Select Send to send SMS.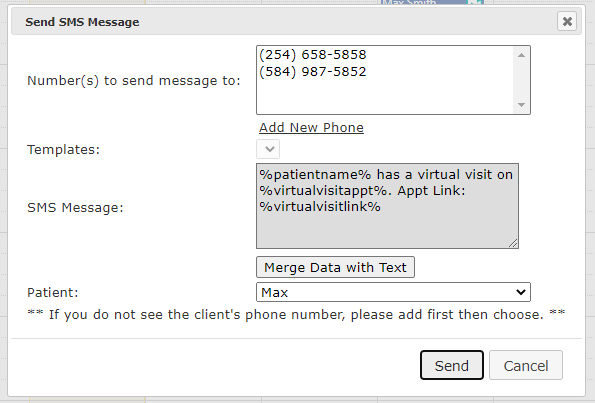 Virtual Visit appointment report
When generating a new Appointment report, you can choose to include only virtual visit appointments. This report is useful as a usage report or can be used to capture the list of virtual visits at the beginning of the day. You can find more information on the appointment report here:
How do I configure and run the Appointment Report?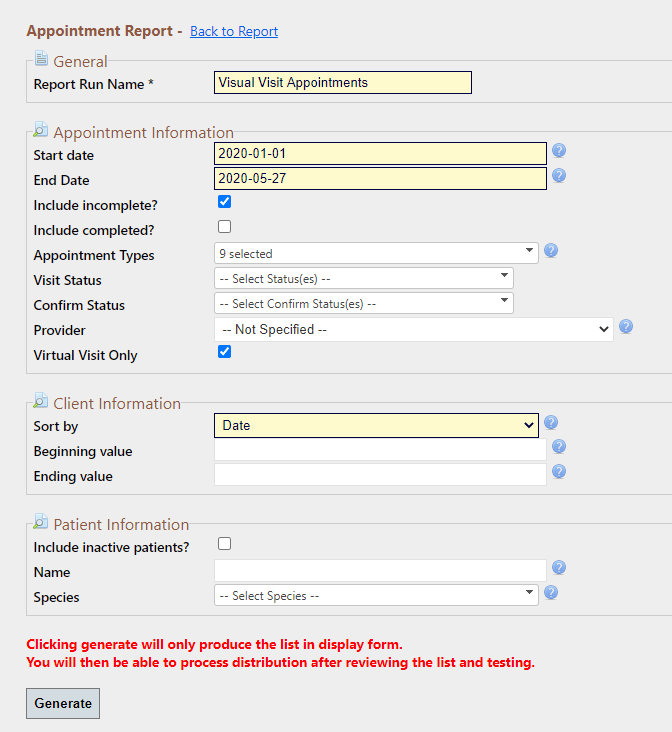 The use of the telemedicine feature involves no additional contract. There will be no charge to any customer for this feature, it is included with your current eVetPractice subscription. In the future, the telemedicine feature will continue to be available at no cost for all customers on the Standard/Premium tiers. If you are a customer that is still on the 'old' eVetPractice pricing, it will also continue to be included in your subscription.
New to Telemedicine? Turn it on and give it a try. To enable this integration, go to Settings

> Integration Settings, locate and select
Enable Telemedicine
. To learn more,
click here
Employee Rights
A new practice level setting, found under Miscellaneous Settings, "Default ability to modify packages for new employees", has been added. When selected this will provide an option to assign the role to modify packages to employees. This will be visible only to those users with the Owner role.

The new employee right level setting, found under Employees > Settings, "Ability to modify packages" will also be visible only to those users with the Owner role.

Client Report Enhancements
Two additional fields have been added to the Client Report, including Client ID and Patient ID.

In addition, the client's telephone numbers can now be found in separate columns within the Excel version of the Client Report. Those numbers flagged as "Default" on the client record will be pulled to populate the corresponding phone type (Home, Mobile, Work, etc.) while all supplementary numbers will overflow to the "Additional Phone" column within the report.

Tax Level Details on Invoices
An option for "Show accumulative tax totals?" can now be found under Settings > Payments > Tax Setup. This option will be selected by default for all practices.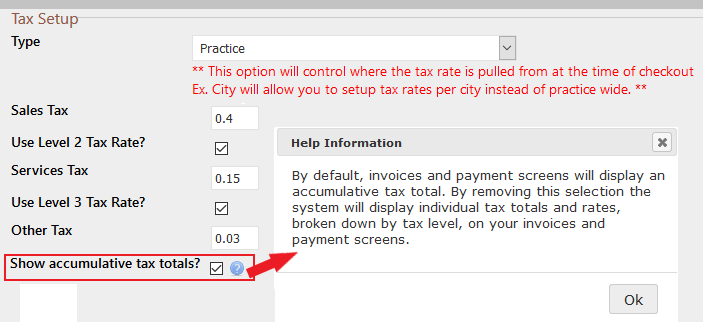 Should you wish to view a break down of taxes by tax level on your client's invoices this option can be deselected.

Other Enhancements and Bug fixes
Addressed issue with the incorrect use of designation on Rabies Certificates
Corrected use of payment dates on auto-renewed Wellness Plans
Ability to upload photos and documents from the Pet Portal is now resolved
Payments are properly recorded to the client record after being processed through the Pet Portal
Incomplete patient status adjustments by Inventory triggers have been corrected
Eliminated potential duplication of Receipt, Invoice, or Rx numbers