Coming soon...
These features will be available when your practice automatically updates to version 2020.10 or higher. To see if your practice has moved to the latest release, click the help icon

in your quick-launch links to check.
Wellness Plans Enhancements – A more intuitive user interface to help detail out a current summary and upcoming schedule of payments for wellness plans.
Patient Estimates – Provide further clarity on suggested treatment plans by displaying declined items on patient's estimates. We've also introduced the ability to remove grouping by category on printed or emailed estimates.
Employee Rights to View Item Cost – A new employee right has been created to restrict the visibility of the cost of a treatment item from the treatment and medical record screens.
Wellness Plan
Scheduled Payment Screen

The screens for scheduling reoccurring payments have been modified to provide a cleaner workflow.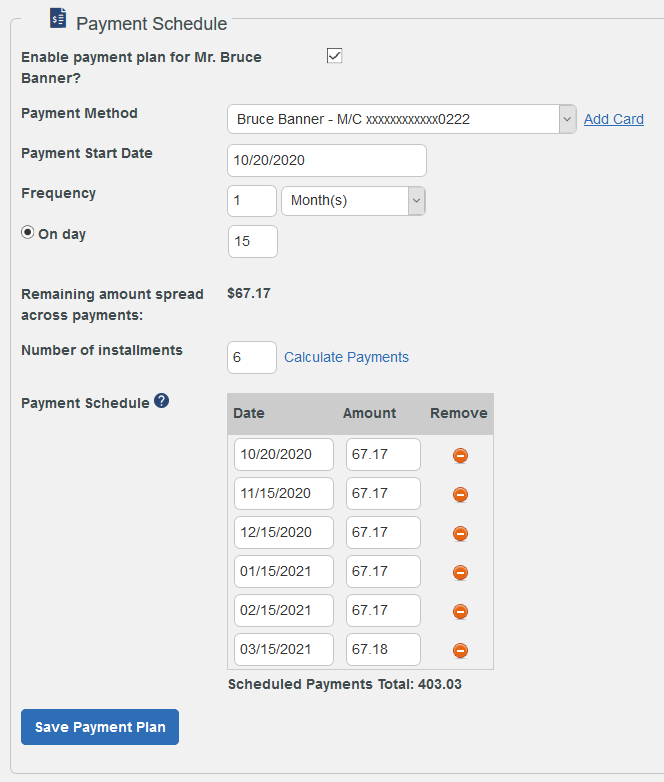 Patient Estimates
Inclusion of Declined Items
A new merge field has been introduced called %estimatedeclineditems% which will allow for declined items to display on estimates. To note, this new merge field will only be visible where Template is used for? is equal to Estimate.
Simply add the new merge field, %estimatedeclineditems%, to your template.

This will include a new section to your template to display Declined Treatments.

To view a list of all merge fields available for use in document creation, click here.
New Practice Setting to remove Item Grouping
A new practice setting has been added to allow the removal of the item grouping by category and package on the printout and emailed versions of estimates. The new setting is available under General settings, then Payment History/Invoice/Estimate Settings.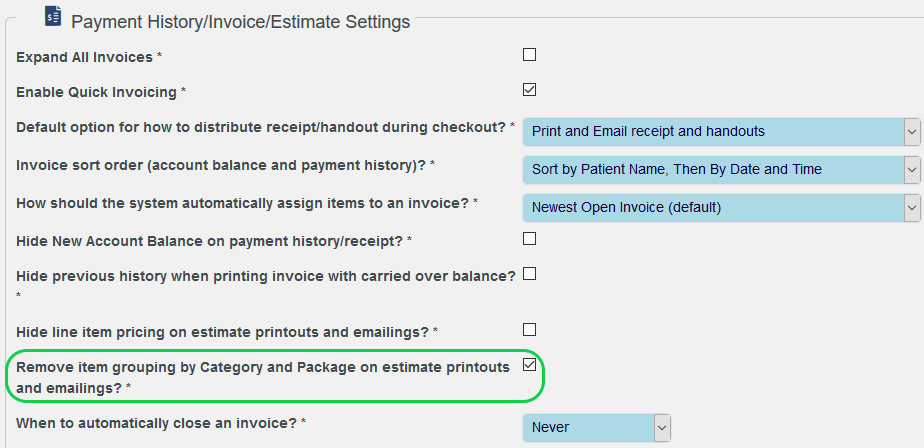 When selected all category grouping for items and packages will no longer display on the printable or emailed versions of the estimate.
Here is an example of a printed estimate with items broken down by item category.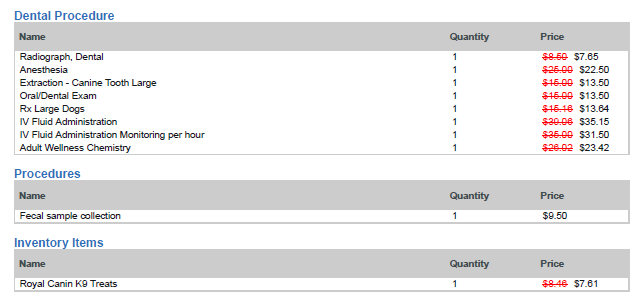 While here we have an example of an estimate where the grouping is turned off.

Employee Rights to View Item Cost
New Employee Rights
A new right has been made available for users to restrict visibilty of an item's cost. By default, the new right will be selected automatically for any existing or newly created employees. This new option will be visible to all users who have access to employee rights under the Medical Record sub-section.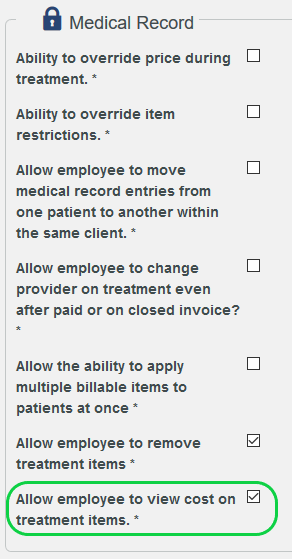 View Cost on Treatment Items
When the right is not selected, in the treatment item details (expanded view), the "Cost" is no longer visible to the user. This restriction of visibility will be applicable to:
Treatments
Quick Invoicing
Estimates
Medical Record (all views: MR View by Date, by Date with Details, and by Group)
Bug Fixes
QuickBooks - Invoice tasks that were previously not processing are now resulting in successful submissions to Quickbooks.