Question: How do I send a referral letter to a doctor or hospital?
Answer:
Navigate to the patient's medical record
Click on the blue hyperlink of the rDVM record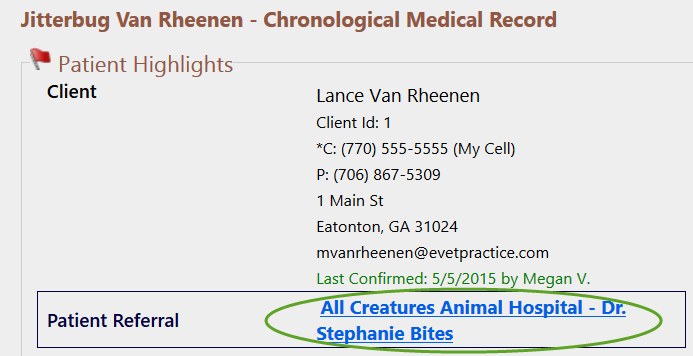 Scroll down past the Patient Highlights section to the rDVM record
Click on either "Email New Referral Letter" or "Print New Referral Letter" based on which you need.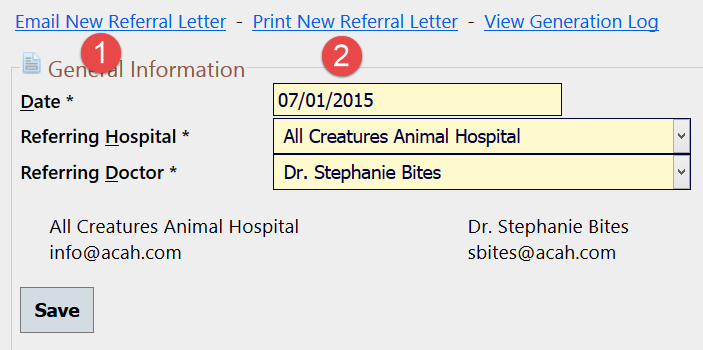 This will bring you to the section where you can create your referral letter. You'll need to choose which template to use. Many practices have multiple templates to choose from for different scenarios as you can have as many stored as you would like. Once you've chosen the correct template, you can choose which items from the medical record you would like to include in the letter. Please note:
You can choose multiple types of each medical record entry (complaints, exams, etc.) by checking off which ones you would like to include in the drop down box.
Lab Results and Medical Record Documents will be included as separate pages after the referral letter and not included in the body of the message.
Once you choose your referral letter template, the template with all the merge fields will appear below. You can hit "Merge Data with Text" to see what the letter will look like before it is sent to the rDVM.
Using the sample referral letter above and the following selections: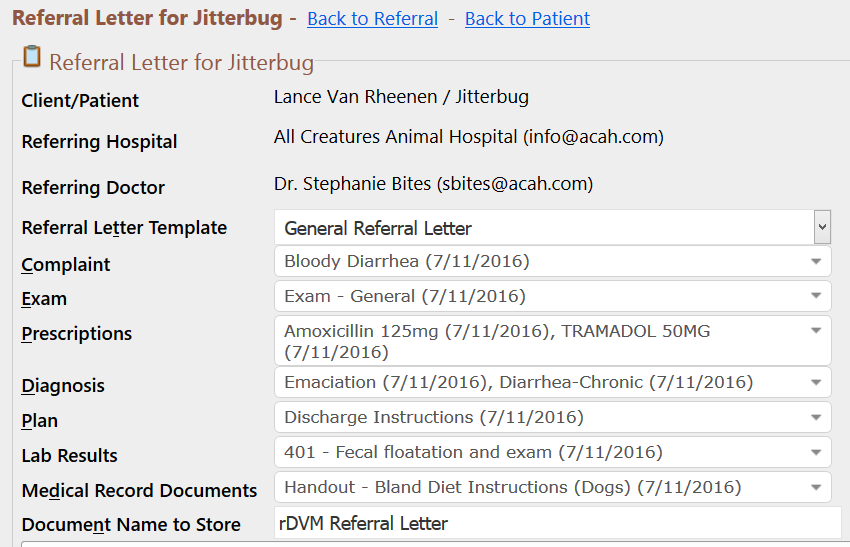 Here is what the referral letter looks like once the data is merged with text:
1720 Epps Bridge Parkway
Watkinsville, GA 30606
mvanrheenen@evetpractice.com

Discharge Letter
July 12, 2016

Referring Hospital: All Creatures Animal Hospital
Client: Lance Van Rheenen
Patient: Jitterbug, Australian Shepherd, FS, 7 years 2 months, 60 LBS


Dear Dr. Stephanie Bites:

Lance Van Rheenen presented Jitterbug for care on Wednesday, July 01, 2015. Below is a summary of her visit and treatments at Madison Animals.

HISTORY:
Bloody Diarrhea

EXAM:
Subjective Assessment
Depressed
Lethargic
<6% dehydrated
Obviously does not feel well; giving me the "whites of eyes" look
Oral-Nasal-Throat
Normal

NORMAL CONDITION
Ears
Normal

NORMAL CONDITION
Eyes
Normal

NORMAL CONDITION
Cardiovascular
Normal Auscultation

NORMAL CONDITION
Respiratory
Normal

NORMAL CONDITION
Abdominal
Diarrhea

ABNORMAL CONDITION
Genitourinary
Normal

NORMAL CONDITION
Musculoskeletal
Abnormal

ABNORMAL CONDITION
Generalized muscle wasting
Integument
Abnormal

ABNORMAL CONDITION
Perineal soiling
Lymphatics
Normal

NORMAL CONDITION
Neurological
Normal

NORMAL CONDITION
Rectal
History of chronic loose stool, but it has never been bloody before.


DIAGNOSIS:
Emaciation
Diarrhea-Chronic

SUMMARY:
Discharge Instructions
Jitterbug has diarrhea of unknown origin. We found no evidence of parasites, but we are treating for them nonetheless. If the chronic loose stool fails to improve, then I think she should be worked up for enzyme deficiency or inflammatory bowel disease at her primary care veterinarian.

MEDICATIONS:
7/10/2016 - Amoxicillin 125mg - 20 tablet
7/10/2016 - TRAMADOL 50MG - 10 tablet

If laboratory testing and/or x-rays have been done, a copy has been included with this letter and emailed to Lance Van Rheenen. Please do not hesitate to contact me at or email at mvanrheenen@evetpractice.com should you have any questions or concerns.

Thank you for your referrals,

Megan Van Rheenen, D.V.M.
Once you have created your letter and selected everything that should be included, you will have the option to print or email the referral letter based on the option you previously chose at the bottom of the screen. If you selected "Print New Referral Letter," you will see "Print" at the bottom and clicking on this option will print a PDF document of your letter and any selected attachments (please see attached PDF to this article for a sample of the above referenced letter). If you chose "Email New Referral Letter," you will see the "Send Email" option at the bottom of the screen. Please note that if you choose to send an email, you will have the option to send an email to the referring hospital, doctor, both hospital and doctor, and any additional emails at the top of the screen:
Related articles
For more information on adding a referral doctor or hospital please see the following articles: