Customizing which days a resource appears on the calendar
Behavior and Design
If no resource is scheduled for a day, the calendar displays all enabled (green) resources in the resource view.
Otherwise, days with a resource scheduled only display the resource or resources scheduled.
Configuring the Resource View Schedule
Navigate to the Menu > Settings > Calendar > Calendar Resources.
In order to customize which day(s) each of the resources should appear on:
On the calendar below the listing of resources, click on a date to prompt Add Resource Schedule.
Check the repeat box to configure any recurring schedules (see image below).
Repeat intervals can be set Daily, Weekday patterns, Weekly, Monthly, or Yearly and can be set to end after a number of occurrences or on a set date. Each interval has its own settings, and the "Summary" tab describes what is being configured.
Once the repeat settings configured, click the Done button and then click Save.
Otherwise, just click the save button without checking "repeat" if scheduling for only that day.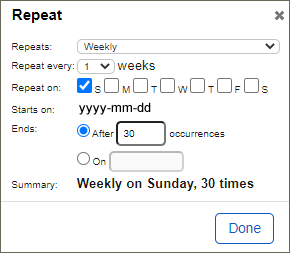 Configuring Closed Days and Holidays
We recommend creating an additional "Closed" or "Holiday" resource column to display closed days.
Only schedule that resource for days the practice is not open.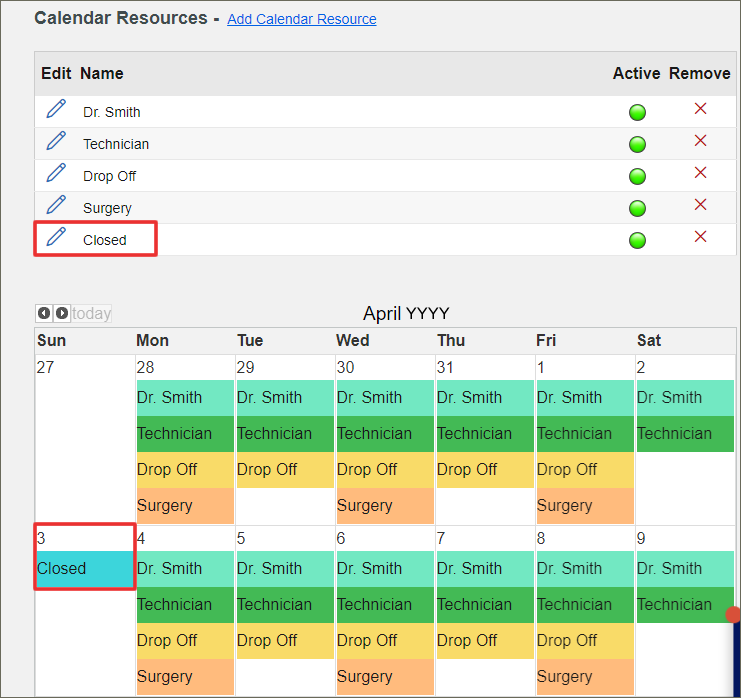 Making Changes to the Resource Schedule
When you click on a specific resource name on the resource scheduling calendar view, you have two options: Edit and Cancel.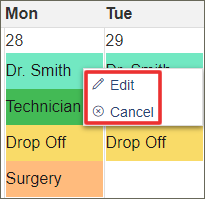 Important Note About Canceling and Editing
Existing appointments on resources that are edited or cancelled are moved to the first or "left-most" resource for a given day.
As best practice, Support recommends the sequence of adding replacement resources first, moving or re-assigning existing appointments, and then making any necessary edits or removals of calendar resources.
Editing a Resource Schedule
Clicking "Edit" on a scheduled resource allows practices to update the selected resource for that specific day.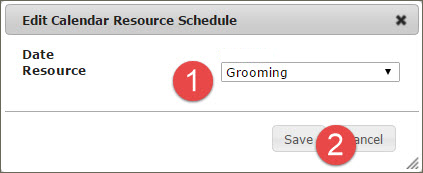 Cancelling a Resource Schedule

If you Cancel an item that was not configured to appear on a recurring basis, you'll be prompted to confirm you want to cancel that particular resource schedule.

If you Cancel an item that was configured to appear on a recurring basis, you'll be prompted to confirm you want to cancel that particular resource schedule.
Only this Resource Schedule - This cancels that particular resource's schedule from that day only. It will not affect future days' schedule of appearance.
This Resource Schedule and Future Resource Schedules for Series - This option will cancel all of that particular resource's schedule starting that day and forward.
Cancel - Closes the window without making any changes.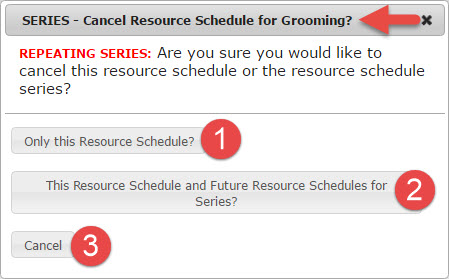 Drag-and-Drop a Resource Scheduled Item
On the Resource scheduling calendar, you do have the ability to drag-and-drop an individual resource item from one day to another.
Single-day resources prompt for a single confirmation screen to confirm the resource relocation.
Resources with a recurring schedule behave with a confirmation, but critically does not impact past or future recurring dates.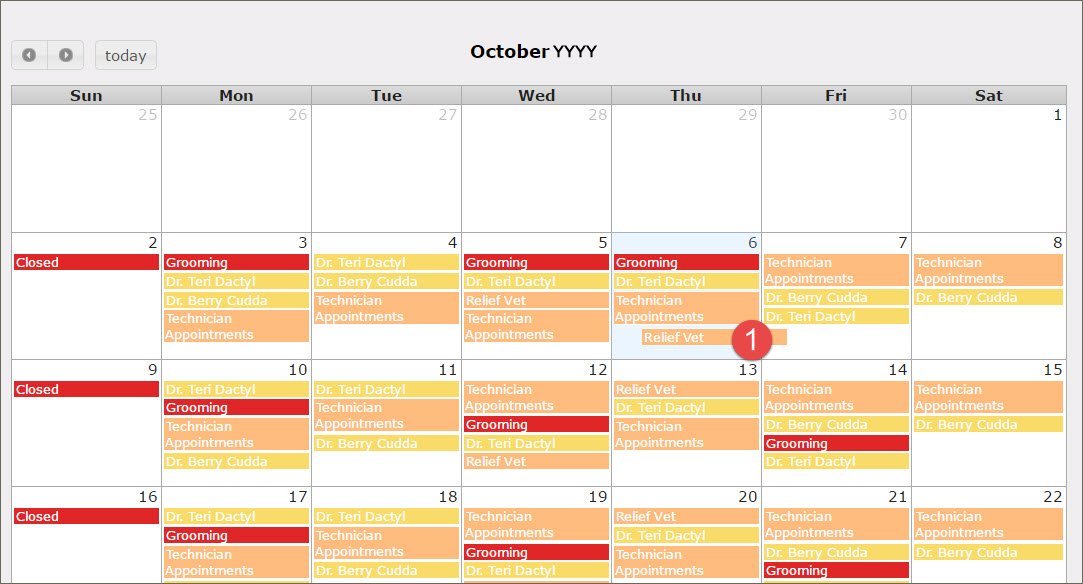 Related Articles