Watch the Video:
The Practice Profile area is a centralized location for practices to document their business profile. Here you can capture specific characteristics about your business.
This article will focus on the Application Settings.
For more information about other areas of the Practice Profile, follow the links below:
To access the Practice Profile, click the gear icon

then click on the link, Practice Profile.

Application Settings
In this area of Practice Profile, define the color for the header and footer for the site.
Site Header & Footer Color
To select a color for the header and footer area of the site, click on the color circle below the label Site Header & Footer Color.

A color palette will appear.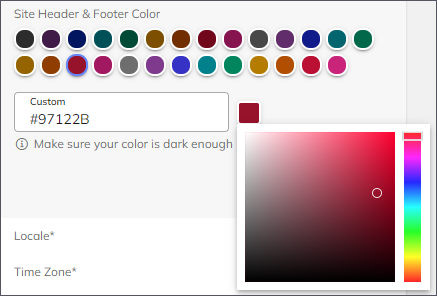 Click on any of the colors circles shown to select a color.
Click the small square to display a larger square with a color slider. Drag the color selector in the large square and/or click and drag the slider located to the right and select a color.
If you know the custom settings for a color, enter the code in the Custom field.
Click the X to cancel the color selection or click the check to save .