Windows or MAC receiving Framework Error or SSL port not enabled issue.
Make sure the DYMO WebService is not running by checking if the icon is visible on the taskbar or in the system tray. If it is visible click the WebService Icon > select "Exit"
To Retart the WebService on Windows
Navigate to C:\Program Files (x86)\DYMO and click on the DYMO.DLS.Printing.Host file to run


or

Click on the Start menu

Select the DYMO Label Folder

Select the DYMO WebService Application




To Restart the WebService on MacOS
Open a Finder window

Navigate to the

/Library/Frameworks/DYMO/SDK/

folder

Click on the

DYMO.DLS.Printing.Host.app

icon.
How can I configure the DYMO Label WebService?
Locate the DYMO WebService Icon on the taskbar or in the system tray



Select Configure

Check the option to "Use single port"

The WebService will normally try to use the first available port within the range 41951-41960

You cannot specify a port number that does not fall within the specified range.

The service will not try using any other port if an error occurs while using this option

.

Click Okay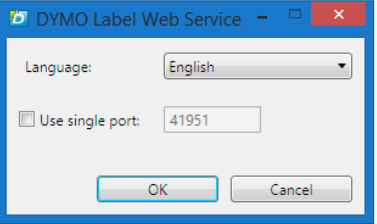 For Windows For MAC