Watch the video:
Text-to-pay is available to Worldpay customers. This function will allow clinics to have the option to send an invoice via SMS or email to customers to pay outstanding invoices. If the clinic will be utilizing the SMS option, an integration for SMS is required at this time.
To turn on this integration, you will need to obtain your Text-to-Pay Merchant ID and Password by contacting the Covetrus Payment team at covetrus.payments@covetrus.com
Setup
From the Menu, click on Settings > Billing > Payments.
Scroll down to Payments Accepted.
Enable Use WorldPay Integrated Systems then click Save.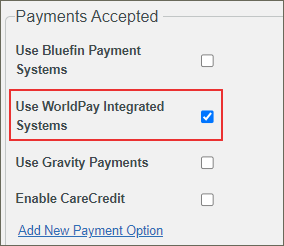 Scroll down to WorldPay Integrated Payments Settings.
Select Allow sending payments to client's device.

To complete the setup, please email the Covetrus Payment team at covetrus.payments@covetrus.com to obtain your Text-to-Pay merchant ID and Password.
The Covetrus Payment team will supply you with a Merchant ID and password to allow you to complete the setup and enable the feature to send invoices to client's devices.
Trying to save the settings without keying in the credentials displays the error as below.

If the practice is set up only for eCommerce with WorldPay, the eCommerce Merchant ID and password and be used as the main WorldPay Integration setting and the PetPortalMerchantID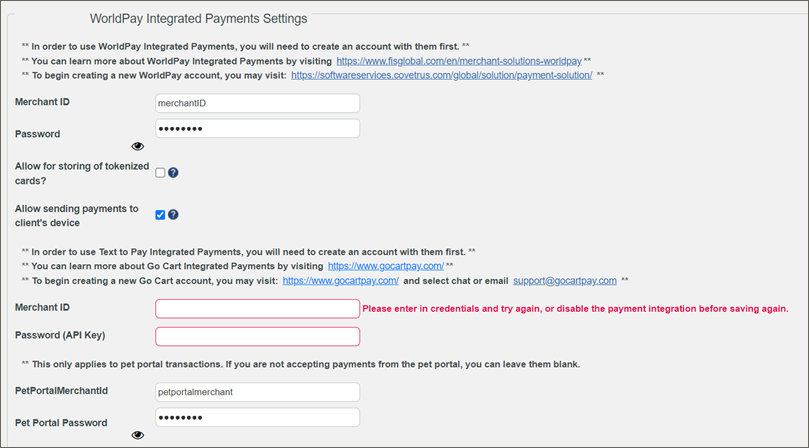 If users want to send an invoice by SMS, the clinic will need to be enrolled in SMS. Please contact Pulse support to enable this feature. If your practice uses Rapport or Message Media for SMS integration, proceed to the next step.

Go to Menu > Settings > Practice Setup > General > Integration Settings.
Enable Covetrus SMS Integration will need to be enabled and saved
For practices using Rapport or Message Medial for SMS integration, you will need to confirm 'Enable SMS Integration' is enabled and saved.

User must have manager role to be able to select this option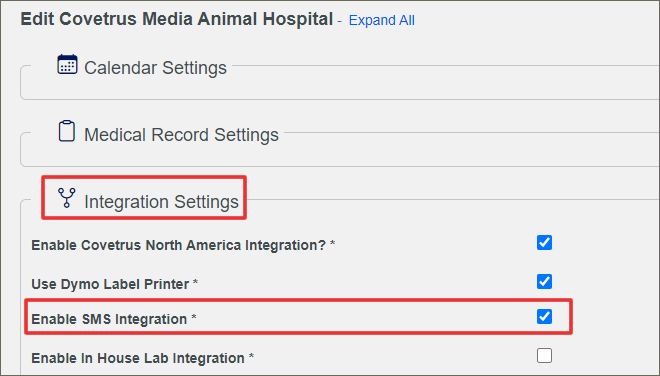 To setup SMS

Go to Menu > Settings > Client Engagement > SMS Setup.

Currently we work with Message Media or Rapport services. Covetrus recommends using Rapport for the SMS integration.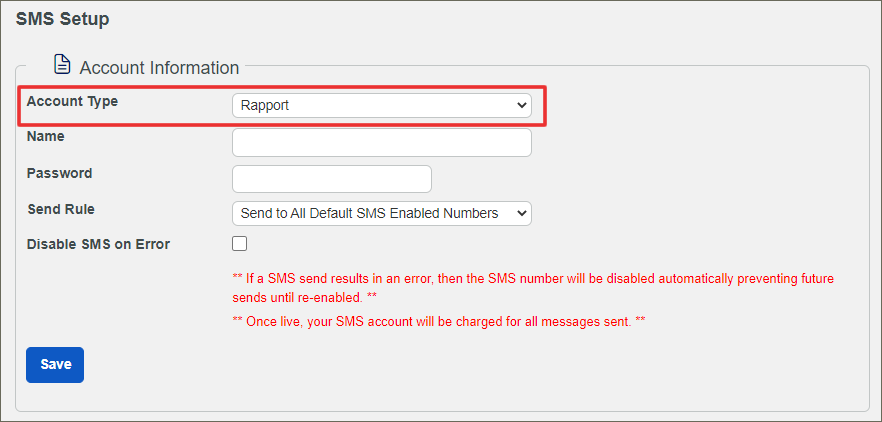 Additional Info
**For support on setting up Text-to-pay or for questions on pricing and payment transactions, please contact the Covetrus Payment team at covetrus.payments@covetrus.com
Related Articles
Text-to-pay - Sending a Payment Link