Watch the video:
For setup instructions, please refer to Text-to-pay - Setup
When processing an invoice for a client, a Send Payment Link button is available in the Payments section to allow the practice to send a payment to a device. Users will have the option to select an individual invoice or all invoices to send to the client.

When the user clicks on the Send Payment Link button, the user can see a pop-up dialog box with options to Send As SMS and/or Send As Email. If the client has a mobile phone number on file, the number is used to prefill SMS number.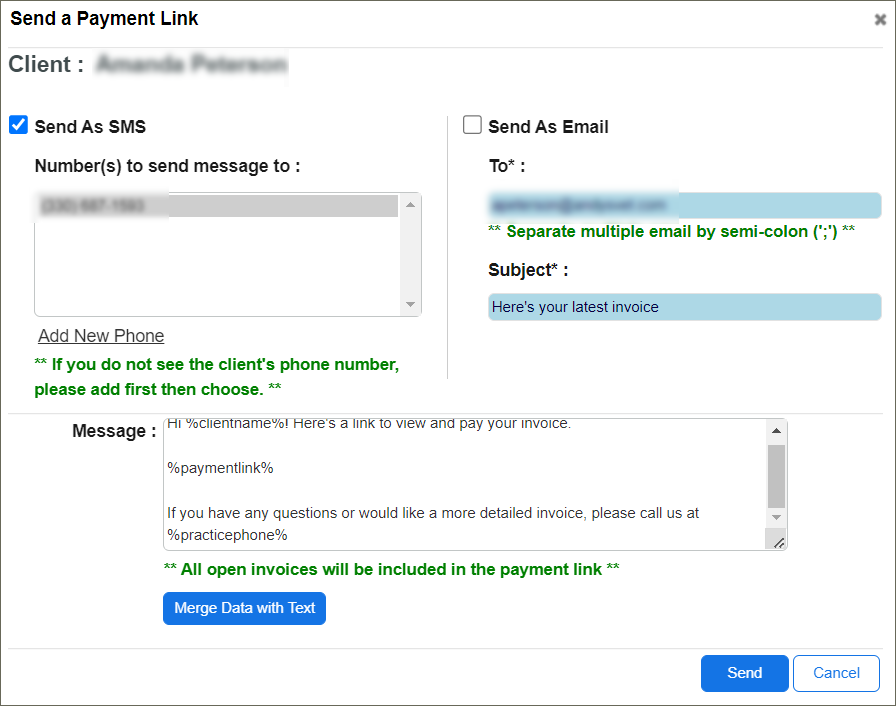 If the client has multiple phone numbers on file, use the one with the default mobile flag as prefill SMS. The user can choose different mobile numbers on file if there is more than one.
If the client has multiple phone numbers on file and none are marked as default mobile, pick the first one to prefill.
If the client doesn't have any phone number on file, there will be no prefill SMS number. Users can update the phone number to any valid phone number. The valid phone number must be10 digit numbers. User must select Is SMS Enabled when saving a new number.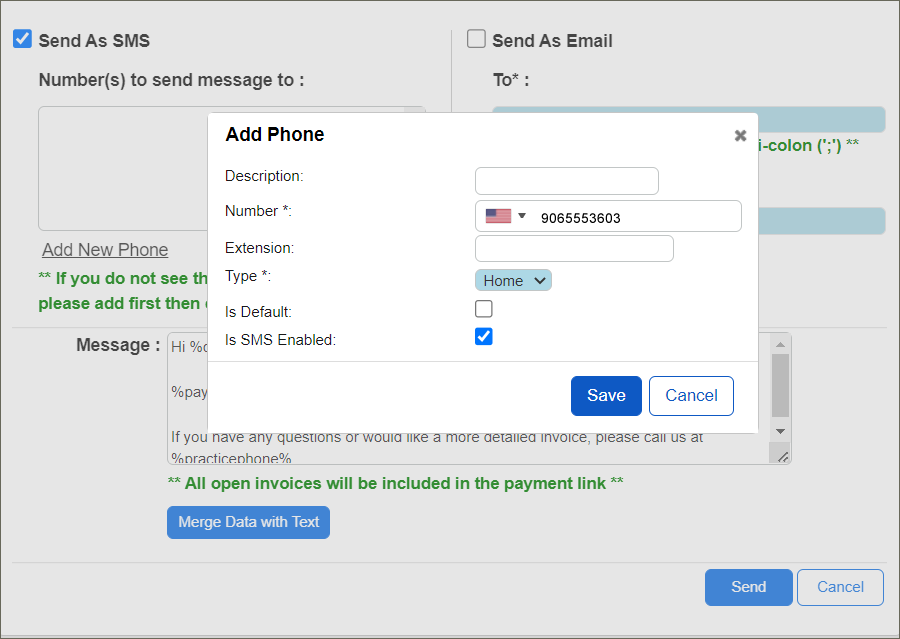 Users can select to send payment via email. If email is selected, the email address field is pre-populated with an email address on file.
**Email address is required on client account to send payment link via email or SMS**
Users can select Send after either SMS or Email is selected and filled. This link will send an invoice to the client for the invoice/s selected. After sending is executed, the client should get an email or a text message with the following information with a link from Skipify to pay the invoice that was sent.
Communication will display under Communication Logs and Client Communication Entry. Data entries for this feature will display as Text-to-pay Email or SMS depending on the delivery method that was selected.
All invoice payments will display as Online Payments.

Related Articles