A patient's Visit Status and Location can be manually updated without leaving the Whiteboard. Simply click on the appropriate Status or Location line and a drop-down list will display, allowing the user to change the entry on-the-fly.
Visit Statuses

will be categorized by whether the option will keep the patient on the Whiteboard or remove the patient from the Whiteboard.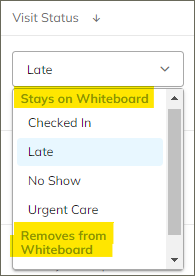 Locations

will display the number of occupancies available in parenthesis behind the location name. If the location has reached maximum capacity or unavailable, the location will be display grayed out.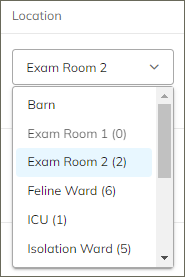 Display Visit Status Date & Time
When patients are added or a visit status is changed, the system will automatically log the day and time the change was made. This information will be displayed directly below the patient's status on the Whiteboard.
Column Sorting
The Visit Status sorts by Time. The date/time stamp changes when the status changes. In the image below, the Visit Status is sorted in descending order, by time, as indicated by the arrow.