Overview
The changes to staff login also come with a new feature, Account Linking/Unlinking. Staff that currently have login credentials for multiple practices will now be able to link/unlink those logins together, resulting in one set of login credentials for all accounts. Upon login, they will be able to select which practice they would like to access.
Link/Unlinking Accounts
In these steps we will be referring to two types of accounts:
Link Login
Click the user menu icon in the top right corner, and select 'Link Accounts'.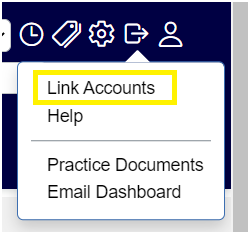 In this area, the user will have a button to Link Login. When clicking on 'Link Login' the user will see a pop-up showing details of the user they are logged into and a button to link an account to link a new account.

Unlink Login
In this new section, there is a table to show all linked accounts.
To the right of the user tile, click the unlink button to unlink an account.

Users will have the option to unlink accounts and a popup will be presented confirming the user is aware of the action being taken.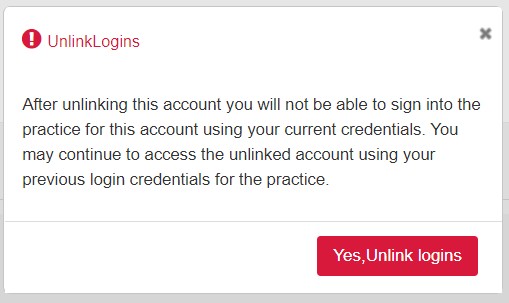 The accounts are unlinked on click of the 'Yes, Unlink Logins' button.