The single Category Management interface allows a practice to view and manage all categories across all Billable Item types in a single unified interface.
Open Manage Categories
To access the Manage Categories screen, go to Menu > Settings > Products & Services > Services (or Labs).
Click on the action button located on the right side of the Services or Labs screen.

From the drop-down list, click on Manage Categories.
Creating or Editing a Category
To create a new category, click the "+ Category" button on the upper right of the Manage Categories screen.

To edit an existing category, click the action button next to the item you want to edit and select Edit from the menu.

The Edit Category panel opens.
Name - Enter a name for the category.
Item Type - Select if this category is for Services or Labs. This option cannot be changed after it is saved.
Category Description - A place to enter an optional description of the category.
Discount (%) - A optional discount that will be applied to all items in this category when sold.
Intuit® QuickBooks® Settings - When editing a category, this button opens the QuickBooks settings specific to this category.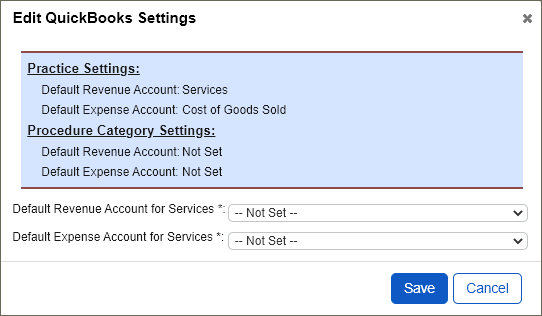 Searching & Filtering
You can search using the Search control at the top of the page. You can search by the name of the Category.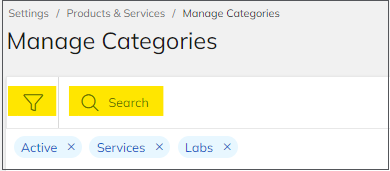 You can also filter by clicking on the filter icon and making selections from the Filter by flyout.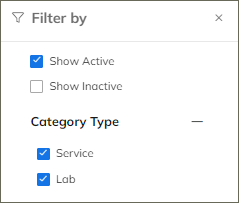 Status - Click in the checkbox to show/hide Active or Inactive.
Category Type - Use the checkboxes to display (or hide) Services and/or Labs.